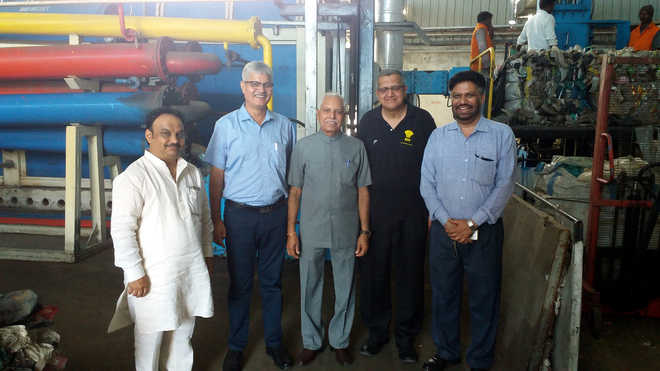 Tribune News Service
Chandigarh, October 5
A four-member MC team, which had gone to Chennai to study the technicalities and feasibility of a plastic-to-fuel plant, returned today and has proposed to set up such an environment-friendly plant in the city.
A detailed study tour report will come up in the MC House meeting where the final decision will be taken.
Mayor Arun Sood said the four-member team comprising nominated councillors Babu Lal and Surinder Bahga, BJP councillor Satish Kainth and MC official MS Kamboj visited a plastic-to-fuel plant at Chennai. He said their aim was to study the technicalities of the plant and its feasibility in Chandigarh.
He said the Chennai plant had a technology in which waste plastic was heated in an oxygen-free chamber (known as pyrolysis). As the plastics boils, gas is separated, which is reused to fuel the heating system of the plant. The fuel is then distilled and filtered. The entire process takes place inside the vacuum and the plastic is melted, and not burnt, thereby causing no damage to the environment.
The Mayor said Chandigarh produced about 500 tonne of garbage daily; of which, about 10-15 per cent is plastic waste. It meant that Chandigarh produced about 60 tonne of plastic waste daily. To handle this environmentally hazardous waste, the MC proposed to set up a plastic-to-fuel plant on the existing landfill area at Dadu Majra. "It will give zero residual of waste and meet all pollution norms," he said.
Top News
Videos of protests from various university campuses where st...
INLD leader and MLA Abhay Chautala's son Karan Chautala wins...
Saini was hit and dragged by a white pickup truck at the int...
BJP's malicious attempt to defame the Yatra by using fake vi...
This is ostensibly the fourth CCTV footage that has emerged ...