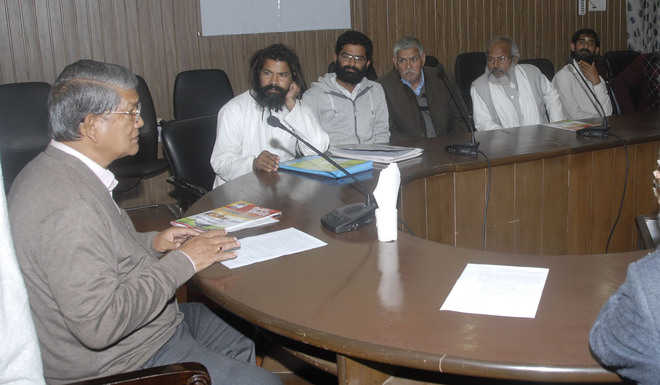 Tribune News Service
Haridwar, March 4
Chief Minister Harish Rawat here today assured Matra Sadan ashram inmates of continuing the ban on quarrying on the Ganga riverbed from Raiwala in Dehradun district till Bhogpur in Haridwar district.
Matra Sadan representatives called upon the Chief Minister at his Bijapur guesthouse in Dehradun. Harish Rawat assured them that the ban on quarrying on the Ganga riverbed would not be lifted, as he had announced at the Matra Sadan ashram last year.
He said already the government had cancelled all registered permits allotted in this stretch and would continue with the ban in near future. "The state government respects the concerns and sentiments of saints and is taking measures to conserve the Ganga, the environment and the local ecology," he added.
The Chief Minister urged Matra Sadan founder Swami Shivanand to suspend his indefinite fast that he started after his disciple Atmabodhanand was forcefully taken to hospital early this week. Atmabodhanand had been on a fast demanding a ban on quarrying and extension of the Kumbh mela zone till Bhogpur.
He announced the formation of a high-powered expert committee that would present a report on quarrying on the Ganga riverbed in the state taking into consideration environmental aspects and river morphology. Representatives of Matra Sadan would be included in the committee that would comprise experts from the Wadia Institute of Himalayan Geology, geologists, environmentalists, officials from environment, forest and irrigation departments. Till the committee submits its report and a comprehensive policy is framed, the ban on quarrying would continue.
The Chief Minister said stern action had been taken against the quarrying mafia through the Anti-Mining Cell operating in Dehradun, Haridwar and Udham Singh Nagar districts. On extension of the Kumbh mela zone, he said a consensus was need on the issue.
Chief Principal Secretary Rakesh Sharma, Additional Chief Secretary S Raju, Additional Secretary (Quarrying) Shri Dhar Babu Adanki, Haridwar District Magistrate Harbans Singh Chugh and related department officials attended the meeting.
Top News
2 others eject safely I Debris strewn across miles I Sukhoi,...
Visit comes ahead of NSA chief's US tour
Union Ministers call it part of efforts to de-colonise, indi...