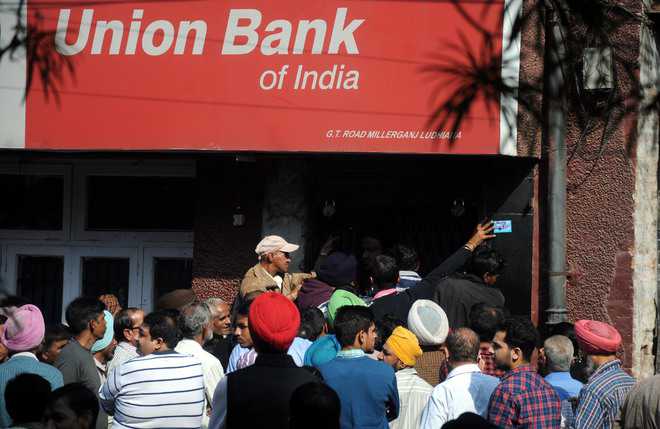 Tribune News Service
Chandigarh, November 25
Jan Dhan account holders in Ludhiana alleged that they were facing difficulties in withdrawing money from their own bank accounts.
Bank officials, however, said they have withheld withdrawal in only those accounts where the bank witnessed "dubious transactions."
Krishan Pal Singh (27), a hosiery worker, said: "I have a Jan-Dhan account in Salem Tabri branch of Punjab and Sind Bank. When I approached the branch on November 20 for withdrawing money, they refused to entertain my request. The bank official said I can't withdraw money from my Jan Dhan account."
Krishan opened his Jan Dhan account around two years ago with an initial balance of Rs500. Later, he withdrew Rs200. After demonetization, he deposited Rs22,000 on November 13 and deposited Rs4,000 again on November 15. He further deposited Rs1,000 on November 17. He said his total balance was Rs27,300 on November 17.
"It's very disgusting. I need money for my father's treatment, but I am unable to withdraw it," he said.
Another account holder Karamvir also faced the same problem. On being approached, a senior official in Punjab and Sind Bank refused to comment on the particular account.
Instead, he said: "We have frozen some Jan Dhan accounts where dubious transactions were witnessed. It has come to the notice of the bank that gullible people are depositing hoarded cash into their Jan Dhan accounts. Secondly, the accounts of those people have been frozen who have not fulfilled Know Your Customer (KYC) norms and deposited money after November 9."
The deposit limit in Jan-Dhan account is Rs1 lakh and for a lighter version of account that does not adhere to full know-your-customer or KYC norms, the limit is Rs50,000. The Reserve Bank of India has already asked banks to keep an eye on the possible misuse of Jan Dhan accounts.