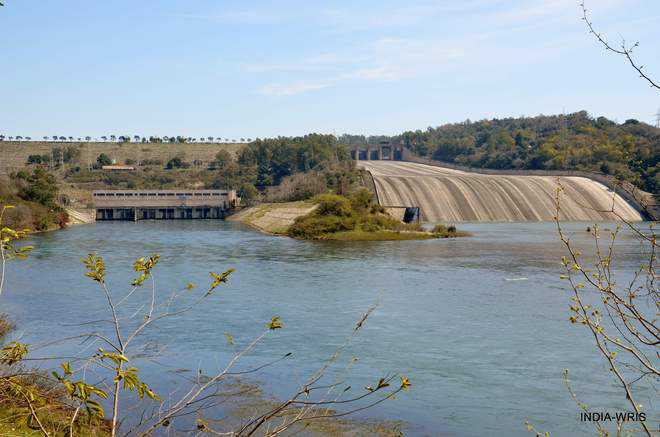 Vijay Mohan
Tribune News Service
Chandigarh, April 18
The decision of Punjab and Rajasthan to defer repair work at the Harike barrage has enabled the Bhakra Beas Management Board (BBMB) to begin the much-needed low-level inspection of the Pong Dam in Himachal Pradesh to review the structural health of parts that remain submerged.
Sources in the BBMB said the Punjab Irrigation Department had earlier scheduled to carry out repair of the barrage's gates from April 25, which would have taken over two weeks to complete. However, at the coordination committee meeting held here on April 15, it was conveyed to the BBMB that the work had been postponed for the time being due to technical reasons.
The Harike barrage lies on the Sutlej river in Ferozepur district and is the source of the Indira Gandhi Canal, also known as the Rajasthan feeder, that supplies the bulk of water to Rajasthan from BBMB projects.
While the Harike barrage is controlled by the Punjab Irrigation Department, Rajasthan bears the expenditure for its maintenance and upkeep as the state is the prime beneficiary of the canal.
"Our plans for low-level inspection at Pong had been pending. Repair at Harike would have required closing the barrage gates, thereby forcing reduction of water release from Pong and Bhakra. This would have raised reservoir levels and inspection would not have been possible," a senior BBMB officer said. It is after about 10 years that such an inspection is being carried out. Low-level inspection entails examining structures such as pen stocks and water intakes, which are otherwise inaccessible, for possible cracks, damage, weakness, slit debris accumulation and structural integrity.
The reservoir level at Pong, which also has hydroelectric power potential, was 1,297.7 ft today as compared to the maximum level of 1,390 ft, which has led to the required structures being partly exposed. The BBMB wants to deplete the level further to 1,295 ft. "While we have commenced the process, the actual inspection of the tunnels is scheduled to begin on April 23 and the work can take about 20 days. Till this time, water supply to the states would not be affected," an officer said.
The BBMB has also undertaken the inspection of a submerged pen stock at the Bhakra Dam after shutting down inflow and draining water from the tunnel. The pen stock is scheduled to be back in operation later this week.