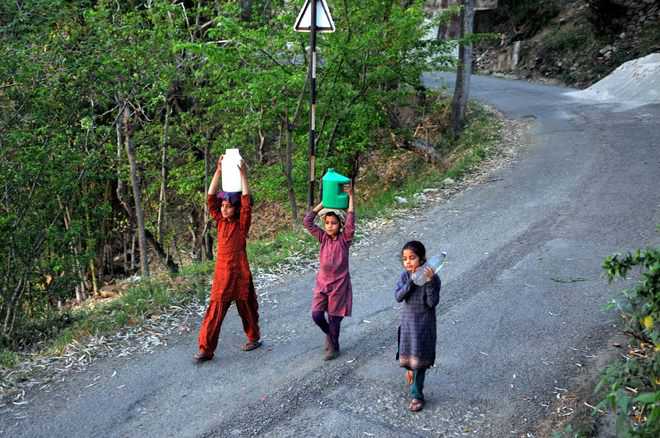 Kuldeep Chauhan
Tribune News Service
Shimla, April 9
The Rs 69-crore Giri water scheme has come under a scanner after a Shimla Municipal Corporation (SMC) team yesterday found many "missing links" in the quality and specifications of water pipes used by the Irrigation and Public Health (IPH) Department. The water pipes developed leakages soon after its inauguration in 2008 during the then BJP regime.
The inspection team, led by Shimla Mayor Sanjay Chauhan, including MC engineers, found leakages but the IPH Department continued to operate this scheme by engaging three welders to plug the leakages, whose bill could run into crores for eight years, the team found.
IPH contractors had used water pipes of different specifications while laying the 55-km pipeline that started from near Sainj on the Giri river in Theog. The department had used 5.9 mm to 6.7 mm thickness pipes, whereas the specifications recommended by the IPH Chief Engineer was 7.9 mm, the team revealed.
From 2008 to 2016, the Giri water scheme on an average supplied nine MLD to 13 MLD water daily to the city against its installed capacity of 20 MLD.
The leakages were 60 per cent mainly in the 2000 m Giri-Fagu stretch, which had been plugged by replacing the old water pipeline with a 7.9 mm pipeline, said Sanjay Chauhan.
He said they were shocked to find that neither the BJP nor the Congress governments bothered to inspect the quality and specifications of the pipeline and plugged the leakages despite the citizens of Shimla were crying for water. "We spent Rs 3.7 crore on replacement and now the city is getting a record 18 MLD of water", he said.
In July last year, the SMC took over the 20 MLD Giri water scheme, along with Guma, Charat, Koti-Baranda, Ashwani khud and other schemes, from the IPH Department after the state government created a separate Greater Shimla Water and Sewerage (GSWS) circle under the SMC after the breakout of the jaundice. "We have solved the water woes in six months as water availability in the city has increased to 39 MLD to 40 MLD daily," he added.
---
Probe Giri scheme: Mayor to state govt
The Mayor demanded that the state government should conduct an inquiry into the Giri pipeline scam, bringing culprits to book. The Giri is designed to lift 20 MLD of water by running the pumps for 16 hours daily. In the second phase, the SMC would replace the old pumps to further utilising Giri's full capacity, he claimed.
Top Stories