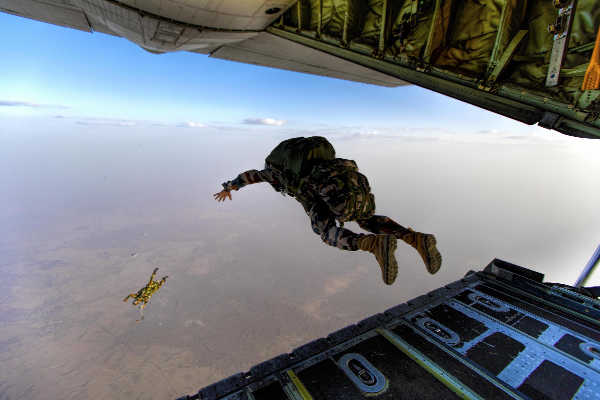 Ajay Banerjee in New Delhi
Faced with China's rapidly expanding military prowess, Indian Air Force recently tested itself to tackle a 1962-type of attack from across the Himalayas. The drill also factored in multiple scenarios such as interdiction of key maritime supply routes and tackling a collusive China-Pakistan threat in case of a short and intense battle.
The two-week (April 10-23) Gagan Shakti is seen as the biggest military exercise since the Indian Army's watershed 'Brasstacks' in 1988. The IAF used its entire fleet of fighter jets, helicopters, special operations planes C-17 and C-130J, radars and airborne surveillance platforms, totalling 1,100. Almost a month after the exercise ended and the data analysed, the conclusion was: "Not only have we achieved our objective, but we have also gone beyond it."
The IAF was not used in 1962. The two-front war doctrine is about a decade old, more in focus since China-Pakistan cemented a military alliance.
China's numbers
China's inventory is estimated at 2,100 combat aircraft (including fighters, strategic bombers, tactical bombers, armed UAV's and attack aircraft). It is backed by long-range 'Dong Feng' series of missiles. It also possesses the ability to rapidly deploy troops, equipment or tanks at Tibetan plateau. Beijing is making a decisive shift towards more offensive operations and long-distance mobility, all requiring air-cover.
Air Vice Marshal Manmohan Bahadur (retd) says "We are well placed for now. But to tackle threats ten years hence, our plans have to fructify." China's projects like J-20 stealth fighter jet, planned a decade ago, are rolling in now and the numbers will grow adding to the technological asymmetry, he says.
A US Department of Defense (DoD) report, titled 'The Military and Security Developments Involving the People's Republic of China 2017' warns: "The PLAAF (People's Liberation Army Air Force) continues to modernize and is closing the gap rapidly with western air forces across a broad spectrum of capabilities. This development is gradually eroding the significant advantage held by the United States."
IAF's battle plan
Gagan Shakti was aimed at real-time coordination, deployment of air power for a short, intense battle. "In the Indian context a short and swift conflict is most likely," says a serving IAF officer. The tempo of operations in such a conflict will reduce time for recuperation for the enemy.
Capabilities were tested from Thoise in Ladakh to Walong in Arunachal Pradesh, some 3,800 km apart. Elsewhere, the IAF hit at targets on land, sea and air, its air defence responses mated with radars were tested. Separately, it carried out a 'surge' or the ability to sustain a high number of attack sorties around the clock. A battalion (some 700 men and equipment) was airdropped at night 'behind enemy lines.' At sea, the Navy's maritime reconnaissance plane, the Boeing P8-I guided the Sukhoi-30 pilots. The Light Combat Aircraft, the Tejas, performed very well and its variants hold the future. The IAF wants more of these, and quickly.
It was in 1962 that the Army's supply line and communication links snapped at Walong. This time, the IAF quickly transported Army troops and guns using MI-17 helicopters from nearby Tezu valley to be 'inserted' at Walong that sits on far-eastern edge of Arunachal Pradesh facing China. On vehicles it could have taken two days. It was done in a couple of hours.
Air Vice Marshall SJ Nanodkar (retd) terms this as "most realistic operational assessment of IAF's capability conducted almost after three decades." Air Vice Marshall Bahadur says: "Mobilisation of men and equipment is a major part of work in conflict."
The numbers game
India could be hampered by its own numbers in case of a conflict. Against a mandated 42 squadrons (16-18 planes in each) of fighter jets, the IAF is operating with just 31. There are about 240 Sukhoi-30 MKI, the only fourth generation jets and New Delhi's decade-long quest with Russia for a jointly produced fifth-generation plane has hit a road block. The US DoD report says China has 600 fourth-generation planes, and it estimates it will become a majority fourth-generation force and is still developing fifth-generation fighters, including the J-20 and FC-31.
Top News
Decision comes following two consecutive country-wide raids ...
The action came day after CBI arrested businessman Vijay Nai...
There have been allegations from various quarters about the ...