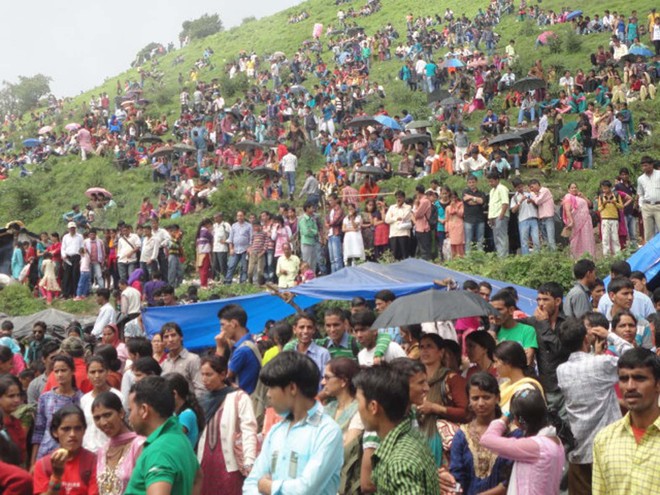 Tribune News Service
Mussoorie, August 17
The Bhadraj temple fair was celebrated with religious fervor and gaiety near Doodhli village, 16 km from here today.
Devotees began converging in large numbers at the temple situated about 7,000 feet above the sea level and paid obeisance to Lord Balram, the elder brother of Lord Krishna, near Doodhli village, and sought blessings by offering unprocessed milk to the deity's idol.
Local folk dances were performed and a common kitchen was organised for the devotees.
The festival falls immediately after the Independence Day every year.
According to temple priest Mohan Lal Pujari, it is believed that during the Mahabharata period, Lord Krishna's brother, Balram, came to this region gave sermon on the importance of keeping cow in the house. Since then a temple in the name of Balram also called Bhadraj was established here.
Urban Development Minister Pritam Singh Panwar, the state president, culture preservation and tourism committee, Jot Singh Gunsola, MC President Manmohan Singh Mall and other dignitaries also sought blessings from the deity on the occasion. Temple committee officials felicitated the minister by presenting a shawl on the occasion.
Doodhli village MC member Jasvir Kaur and temple committee officials demanded to include the festival in the annual tourism calendar of the state as the traces of the festival can be found as far back as 1817 AD. Officials of the temple committee said, "The temple is revered among the van gujjar community that still offers the small portion of the milk before it is given to the new born calf." They also demanded some financial aid for upgrading the temple. Nand Lal Sonkar and others were present on the occasion.
Top News
The minister inaugurates Chief Judicial Magistrate court, Ma...
'I am Rahul Gandhi, not Rahul Savarkar,' he said when asked ...
Former Union Minister Ravi Shankar Prasad says stay on convi...
The plea is filed by a Kerala-based social activist
Amritpal has been on the run since March 18