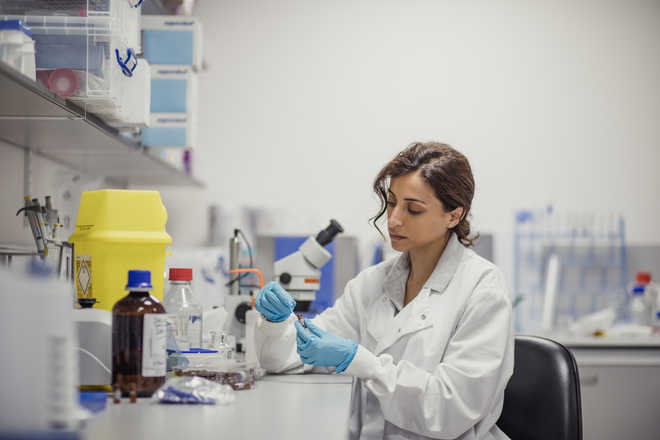 Pervin Malhotra
Q.I am interested in pursuing a career in biochemistry. What are the prospects in this field?— Karuna Vyas
A.Occupying a central place in life sciences, biochemistry focuses on the chemical processes of living organisms. Rooted in chemistry — mainly organic and physical, it also focuses on the chemical mechanisms of genetic information storage and transmission, and the chemistry of cells, blood, biological systems and products, and life processes such as respiration, digestion and reproduction. Termed as the science of the future, biochemistry is fast developing into an extremely important subject. Forming the basis of a great deal of research, its study can make for a successful career offering more alternatives than many other streams of science.
Its applications are of vital significance to the fields of medicine, diagnostics, pharmaceuticals, biotechnology, microbiology, veterinary, agricultural and dairy sciences.
Biochemists study the structure and function of enzymes, proteins, carbohydrates, fats, and their metabolic processes, molecular basis of the action of genes, etc. Biochemical engineering harnesses the knowledge of living organisms and systems to create safe and efficient processes. Mainly concerned with biological changes, it is an essential input in the production of pharmaceuticals, foodstuff and waste treatment.
There is an increasing demand for biochemists involved in biochemical genetic research all over the world, especially for those with a specialisation in cell biology, genetics, proteomics, developmental chemistry, organic and medical chemistry, biochemical methods and research. Openings for biochemists exist in R & D in scientific departments in industry, public sector laboratories, universities and hospitals. While MPhil or PhD is necessary for working as a scientist, you could work as a research assistant straight after MSc in research-oriented organisations like CSIR or ICMR or Indian Institute of Immunology. Defence labs also recruit scientists.
You can also choose to teach at the college or university level for which you have to qualify the CSIR NET or the state-level SLET on completing your MSc. Biochemists are also employed in the sales and marketing departments of pharmaceutical and related industries.
The Civil Services is another option. Courses in biochemistry are offered at over at a large number of universities at the BSc and MSc level while those in biochemical engineering are offered at the BTech and MTech level at several engineering colleges.
---
Prospects of pursuing a diploma in yoga
Q. I am a final year student of BSc Zoology. I have been practicing yoga from my school days and have found it very helpful. What are the prospects of pursuing a diploma in yoga?
— abhinav sharma
A.Yoga therapy springs from our rich age-old tradition of yoga. While elements of yoga have been used in traditional Indian medicine for thousands of years, yoga therapy in its present form is barely a century old, created by the marriage of traditional yoga with modern medicine.
The only reason why yoga and naturopathy haven't developed at par with other Indian systems of medicine is due to the dearth of qualified practitioners. However, several NGOs and private voluntary organisations have now come forward to establish health centres and courses in these traditional systems. The increasing popularity of yoga across the globe has generated excellent prospects for qualified yoga and naturopathy practitioners.
Career opportunities for yoga instructors/consultants exist globally, including in the well-heeled and rich American and European belts (Hollywood alone has over 50+ yoga spas).
As a yoga practitioner, you could be working in hospitals and specialized clinics, holistic health centres, adult education centres, health clubs, schools, special needs centers, on research projects and working from home or conducting health camps for overall fitness or chronic conditions. Many progressive corporate houses invite trained yoga professionals to conduct classes to help reduce stress levels and improve work efficiency.
Acknowledging yoga as a scientific tool for balanced and all-round development of the human body and personality, several Indian universities have established departments of yoga to impart education ranging from Certificate, Diploma, Degree and PhD level, including Teacher's Training Programmes of 2½ year duration. Moreover, there are dedicated colleges in India that offer a Bachelor of Naturopathy & Yogic Sciences (5½ yrs) degree.
For detailed list of courses and recognised institutions, please refer to the website of the Central Council for Research in Yoga & Naturopathy which functions under the M/o AYUSH, GoI (www.ccryn.gov.in).
The ministry has commissioned a mobile-based app to help people locate certified yoga instructors and institutes for learning yoga in their neighborhood. Instructors and institutes who wish to get certified must apply to AYUSH which will list them on the app after CCRYN has verified their skills and quality of services. Many countries, including the US, France, Germany, Argentina, Brazil, Chile, Sweden and Canada, have asked for teachers and qualified practitioners as they realise the benefits of Yoga and Ayurveda in their public health area.
---
Email your queries to careers@tribunemail.com
Top News
CM Uddhav Thackeray reshuffles Cabinet, removes 9 rebel mini...
The Budget remains silent on giving Rs 1,000 to each woman i...
Complaint was filed in Uttar Nagar police station on June 25
Zubair was produced before a magistrate, who sent him to pol...
The ED in April provisionally attached assets worth more tha...