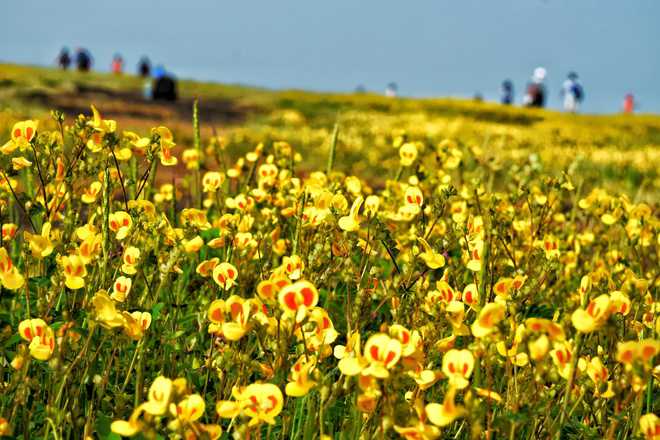 Shoma Abhyankar
Every year after monsoon, for a short period of about two to three weeks, from mid-September to about a week in October, the brown basaltic plateau, west of Satara, witnesses wild growth of flowers that cover the plateau like a carpet for a few days. The plateau, known as pathar in local Marathi language, resembles a delicately embroidered shawl with pinks, blues, yellows, whites and a whole rainbow of colours playing a riot across the landscape.
I was at Kaas Pathar, surrounded by a carpet of yellow blooms, botanically known as Smithia hirsuta or better known as 'kawla' in Marathi.
'Kawla' flowers are in the red list of threatened species of International Union for Conservation of Nature (IUCN). The Kaas Plateau is home to 850 species of flowering plants, some very rare and peculiar to the region with as many as 33 species on the endangered list. At an altitude of 1200 m, this extremely ecologically fragile rocky tableland of Kaas, in the Sahyadri range of the Western Ghats, is a protected Unesco World Natural Heritage Site. Host to a variety of endemic species of butterflies and spiders, its flora and fauna make it a bio-diversity hotspot.
Meandering through the meadow along the designated trail, I came across patches of several other species of flowers. Swathes of tiny white ball shaped flower locally known as 'gend' owing to the shape or Eriocaulon Sedgewicki spread out like scattered pearls in the greens. Few pink flowers of 'Law's Balsam' or 'terda' in Marathi could be seen among the denser patches of yellow flowers.
A few enthusiasts who had visited the plateau few days ago were surprised to find yellow blooms replacing the pink 'Terda'. It was amusing to know that the landscape changed colours like a chameleon every few days. The naturalist in the group enlightened us that 'Terda' was a sensitive flower and shrivelled faster if rain hit after it blossomed.
A lone plant with bell-like purple-blue flowers Strobilanthes Sessilis, commonly called 'Topli karvi' looks like an inverted basket. The rare plant flowers once in seven to eight years. At Kaas Plateau, the mass flowering of this small plant had been previous year. It was by pure luck that I chanced upon a late bloomer and could photograph it. Those flowers would now probably bloom in another four years.
While I missed out on seeing some rare poisonous carnivorous flowers, I did come across wild brinjal plant that had big purple thorns on the leaves and wild turmeric flower that looked like soft brush and hence called 'chanvar'.
There were few patches of delicate blue flowers popularly named 'Sita's tears' for white teardrop-shaped dot on petals. The flowers, as Prerna Agarwal, ecologist and founder of Ecosphere Connect, a biodiversity conservation venture, explains, are indigenous to the plateau and extremely sensitive to footfall.
Among the little balls of sedgewickis also stood a delicate thin branch bearing tiny dull brownish white inconspicuous flowers. The flowers looked like a string of tiny lights and are locally called 'deep-kadi' derived from its botanical name 'Dipcadi montanum'. There were more such wild flowers. Most of these very small in size, at every few paces.
Kaas Pathar has experienced extensive tourism in the past few years and is suffering from unruly and irresponsible visitors who have no knowledge or compassion towards conservation of such vulnerable natural heritage. Though the forest department along with village committee has taken steps like limiting the number of visitors per day or charging a minimal entrance fee and earmarking specific pathways through the meadow but it literally is in our hands to consciously preserve the gift of nature or we may lose the unique landscape forever.
Top News
Was hearing a public interest matter related to the plight o...
'Kyiv is equally critical of any country in the world which ...
Central Asian NSAs speak on drug trafficking rampant in the ...
The move comes ahead of Prime Minister Narendra Modi's visit...
Slain Youth Akali Dal leader Vicky Middukhera's brother Ajay...