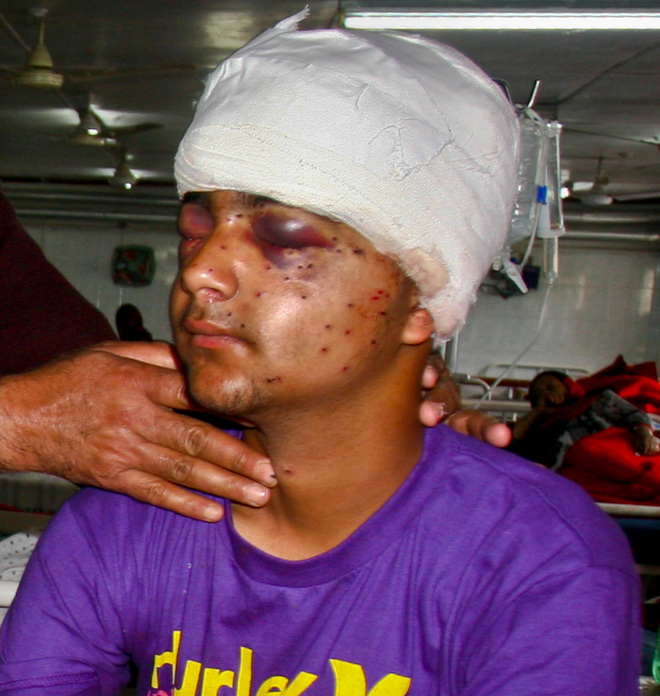 Ishfaq Tantry
Tribune News Service
Srinagar, June 6
The teenaged boy from north Kashmir, who had received serious injuries in his right eye and on entire face on May 21, has undergone a "successful" surgery at a hospital in Amritsar, Punjab.
Hamid Bhat, a Class X student hailing from volatile Palhalan of north Kashmir's Baramulla district, had received serious injuries when the J&K Police had fired pellet guns on teenaged protesters at Palhalan.
He was then admitted to SKIMS Hospital, Bemina, from where he was shifted to Shri Maharaja Hari Singh Hospital (SMHS) in the city.
However, as reported by The Tribune on May 28, Hamid's parents were not satisfied with his treatment at the government-run hospital in Srinagar and wanted to take their ward for specialised treatment outside J&K to save his vision.
They left the hospital early this week against medical advice and took Hamid to Amritsar. "Hamid underwent eye surgery in Amritsar on Thursday. Doctors successfully removed all pellets from his eye. Thankfully, my son is now safe from permanent loss of vision," said Hamid's father Nazir Ahmad Bhat, who could not accompany his son to Amritsar due to some domestic compulsions.
Instead, Hamid's uncle Mohammad Yousuf Bhat and elder brother Junaid Bhat accompanied him to Amritsar for treatment, after the family silently slipped him out of SHMHS Hospital in Srinagar on Monday.
The hospital records in Srinagar still show Hamid as "absconding" as the family did not approach the authorities for discharge before taking him out secretly and left against medical advice. "To be honest, I was scared to let the doctors here operate upon my son, as I have seen the fate of other boys from who were hit by pellets in eye and later treated at SMHS Hospital," Nazir said, adding that he borrowed money to save his son's vision.
Hamid's injury last month had prompted rights groups, including Amnesty International, to urge the state government and the J&K Police to ban use of pellet guns on civilian protesters.