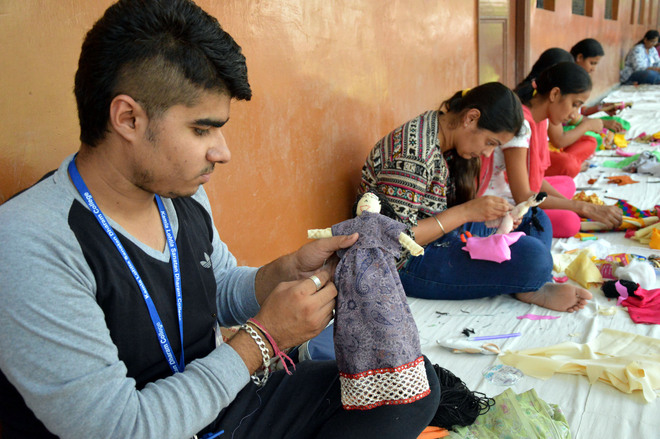 PU Youth and Heritage Festival: Ludhiana Zone-A
Gurvinder Singh
Tribune News Service
Ludhiana, October 3
Though craft is generally considered a women's domain, boys participating in the heritage events, which have been added to the Panjab University Youth and Heritage Festival from this year, were seen making crafts items such as dolls and baskets.
Making dolls as part of the "Guddiyan Patole" event, Paras Johar, a BSc student of Kamla Lohtia SD College, said he enjoyed making dolls during the event. "Since I have been practising for the event for the past few days, I have really started enjoying creating these dolls. Though making such products is generally considered a girls' domain, I liked making them. It is good that such items have been added to the youth festival. These activities will not only test the creative skills of students but also connect them with the heritage and history," he said.
Ravinder Singh, a BCA student, while making a "chhiku" (basket) for storing food, said: "I learnt how to make a food basket only a couple of days ago. Though I had a kind of inhibition about participating in the event, as these are considered to be women's craft, it is not as easy skill to master," he said.
Harvinder Pal Singh, who was weaving a "naala" while participating in the "Naala-making" event, said he didn't feel making crafts items should be viewed with a gender stereotype. He said craft works required creativity and anyone, be it a man or a woman, can make handicraft, he said.
"Participating in the "Mitti De Khidaune" event has been a great experience for me. Though mostly girls participate in these craft events, all boys must try their hands at these items whether they are participating in the youth festival or not. Not just to gain hands-on skills and shedding their gender stereotypes but also to get closer to our heritage," another student, who was participating in "Mitti De Khidaune" event, said.
Top News
Prime Minister Narendra Modi and Uttar Pradesh Chief Ministe...
The election if required would be held on October 17, a firs...
Sujoy Lal Thaosen, Anish Dayal Singh appointed new director ...
Capable of supporting ultra-high-speed Internet, the fifth g...
As the govt rolls out the revolutionary 5G service, a look a...