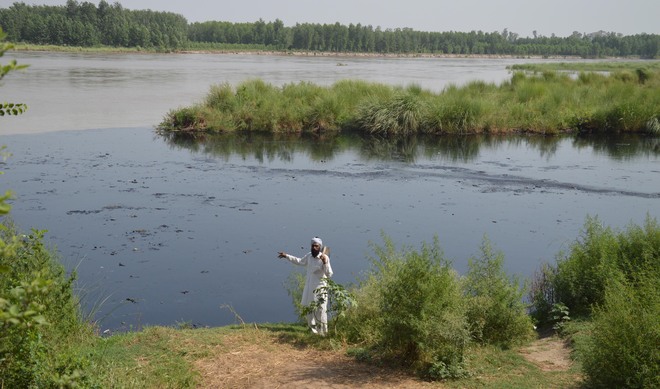 Minna Zutshi
Tribune News Service
Ludhiana, june 14
Buddha Nullah, the toxic vein of Ludhiana, was once a stream of sparkling water. This seasonal water channel is now a dirty drain that reeks of putrid smell.
As the nullah passes through the industrial city, it goes on accumulating industry effluents, sewage, dairy and domestic waste, before draining into the Sutlej.
At Salim Tabri area, heaps of polythene bags and garbage are littered alongside the nullah. The gaudy colour of polythene bags offer a vivid contrast to the soothing green patches nearby. Vegetables are grown in a few patches of land near the nullah. Protecting vegetables from pollutants is the last thing on the mind of the growers.
As the nullah passes through Chander Nagar and Vaddi Haibowal, it remains the same – black smelly drain. "We dread a fresh waft of air because it will not be fresh for us. It will only bring more smell," says Ram Khilavan, a daily wager from Uttar Pradesh.
Villages such as Gaunspura, Walipur, Maniewal are the worst-affected.
At Walipur Kalan, a young agriculturist, Prabhjit Singh admits that the water used for irrigation is polluted. "When the Buddha Nullah flows right next to our land, how can you prevent the pollutants from entering the fields?" he says, adding the pollutants seep deep into the groundwater.
As the nullah proceeds, it vanishes at many points, leaving behind mountains of waste. The confluence of the Sutlej and the Buddha Nullah near Walipur and Maniewal villages presents a telling picture. Dark, brackish water moves slowly to merge with comparatively cleaner water of the Sutlej. The stench is hard to bear. Dirty water flows from a hand pump installed nearby. Villagers wonder whether the Buddha Nullah would ever regain its pristine glory.
Top News
In Mizoram, Zoram People's Movement is locked in close race ...
According to Defence Ministry, 98 per cent of the total proc...
India has constituted a probe team to investigate allegation...
Nikhil Gupta, 52, has been charged with murder-for-hire in c...
GDP growth in the first quarter of current fiscal — April-Ju...