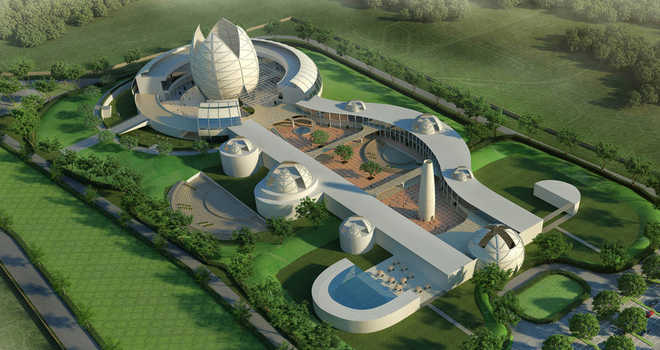 Deepkamal Kaur
Tribune News Service
Jalandhar, January 6
The Punjab Freedom Movement Memorial Foundation is yet to finalise the builder to construct the Rs 200-crore Jang-e-Azadi Memorial at Kartarpur, the foundation stone for which was laid by the CM on October 19 on the Jalandhar-Amritsar road.
The bids for the construction work are still being received and these will be opened on January 27. The final agreement is likely to come up by January 31. Till date, the foundation office has received bids from five builders. The selected builder will be asked to complete construction in 18 months.
The architects who prepared a design for the memorial based on a conceptual plan provided by the foundation have put the construction cost estimate at Rs 188.3 crore.
The project will come up in 25 acres with around 5 acres earmarked for parking of vehicles.
The main iconic memorial of the building coming up in the shape of foliage will be 43.08 m in height so that it is visible from a distance. The four leaves coming up in a cluster will be raised using Kota marble. Sandstone will be used for constructing the boundary wall and the remaining structure.
The iconic memorial will house statues of about 10 martyrs in the middle. It will have a huge atrium with spacious galleries equipped with LEDs. The foundation officials are in the process of finalising the museumologist, who will plan the exhibits, paintings etc. to be kept in these galleries.
The exhibits will showcase the role of Punjabis in the freedom struggle starting from the first Sikh war led by Maharaj Singh in Multan in 1849 to the Independence and Partition.
Outside, there will be six smaller foliage-like structures, housing a 150-seat movie hall, 300-seat auditorium, temporary exhibition gallery, library, 500-seat amphitheatre and a 1000-seat open-air theatre. Popular film director Shyam Benegal is currently directing a movie to be screened in the movie hall of the memorial.
Another attraction will be the 45.5-m-high Shahid-e-Minar at the entrance of the memorial.
The amphitheatre will showcase daily programmes based on the annual calendar, giving an opportunity to the students and theatre artistes to depict history and culture of Punjab. The food court on the campus will be another attraction.