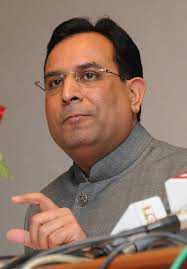 Sushil Manav
Tribune News Service
Chandigarh, September 7
Within a week of levelling a series of allegations against Finance Minister Captain Abhimanyu, Congress MLA Karan Singh Dalal on Wednesday accused him of misusing his position to further his business interests in Haryana and other BJP-ruled states and demanded his dismissal from the government.
The minister, however, denied allegations saying Dalal was in the habit of levelling unsubstantiated charges.
Addressing a press conference at MLA Hostels here, Dalal said he had written to Prime Minister Narendra Modi with details of the minister's "misdemeanours".
Dalal alleged that transmission works running into crores had been allotted to M/s Shyam Indus, a company owned by the minister's family, in violation of the rules.
Most of the works, he said, were earlier awarded to another company, M/s Get Power Pvt Ltd, as turnkey contractors, but the work was later given to the company owned by the minister's family.
Dalal distributed copies of documents pertaining to the contract to mediapersons. Dalal alleged that the BJP government in Haryana had deliberately delayed starting of the Dadam Stone Mines spread on over 55.5 hectares by manipulations to ensure that another mine allotted in the name of Sainik Mining and Allied Services and owned by Abhimanyu's family could continue making huge profits.
He alleged that the government's action had already resulted in a revenue loss of Rs 1,000 crore to the government besides resulting in loss of employment to hundreds of youths.
Dalal also supplied a list of 97 companies and asked Abhimanyu to explain what his family's interests in these firms were.
The minister, however, dismissed Dalal's allegations as false, baseless and mischievous and alleged that "shoot and scoot" was Dalal's favourite pastime.
"Anyone can do business in this country. As far as I am concerned, I have always followed high principles of morality in public life. The mining contract Dalal is talking of was allotted to Sainik Mining and Allied Services during the Congress regime. If he has any evidence, he is free to approach courts instead of levelling baseless allegations in the media," Abhimanyu said.
Top News
Ballistic missile and satellite tracking ship 'Yuan Wang 5' ...
Apprehensions in New Delhi about the possibility of the vess...
Two legislators from the Congress, one from Jitin Ram Manjhi...
Were returning from Amarnath yatra duty
In the wake of latest development, Centre sought urgent hear...