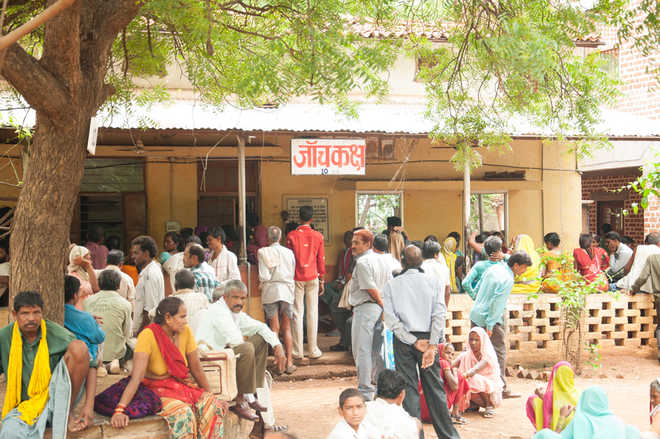 Bharat Dogra
They were the brightest of students from India's most prestigious medical institutions. Fresh on Hippocratic Oath, they wanted to provide affordable medical care to poorest of the poor in remote villages of the country. They were pained by the thought that these wretched of the earth writhed in extreme poverty and lacked access to even the most basic care. Together they decided to develop a low-cost, yet high quality community-based healthcare system that would be readily accessible to the rural poor. Around two decades ago, the quest resulted in Jan Swasthya Sahyog, a non-profit society committed to developing a low-cost and effective health programme that would provide both preventive and curative services in the tribal and rural areas of Chhattisgarh.
Back then, for some time, these youths from institutes such as AIIMS Delhi and CMC Vellore kept wandering from one place to another in search of a suitable place to work. One of the first ones on the mission, Dr Raman Kataria still remembers those days. "We had looked up many places and were getting exhausted. Some of us were of marriageable age and needed to 'settle down'. Amid all this, our search finally ended in Ganiyari village in Bilaspur district. We felt it could become a base for serving the poor people, including tribals, in villages that hardly had any access to medicare at that time," he says. An abandoned building became the hospital. Today, that building caters to patients from about 2,000 poor and remote villages of Chhattisgarh and Madhya Pradesh.
JSS works at a three-tier level of community health workers in hamlets, health sub-centres and the main hospital at Ganiyari. One of its main priorities and strengths is a community health programme, providing preventive and curative services. It is armed with about 120 trained village health workers, selected by their respective villages, in about 60 villages of Kota and Lormi blocks. A significant section of the population of these blocks consists of Baiga and Gond tribals.
Clinical services provided by the JSS include an outpatient clinic at Ganiyari, well-equipped with a dispensary and radiology and laboratory services. It has provided extremely low-cost and effective care through about 6 lakh consultations. The hospital includes an operation theatre complex that has provided quality surgical services to about 25,000 patients. Three sub-centres are located in forest cluster villages. Doctors and paramedics have to frequently walk across rivers in spate to reach these sub-centres.
The hardwork hasn't skipped attention and has become a model for pro-people healthcare. After a visit here, former Planning Commission member Syeda Hameed wrote, "As planners, we must ask ourselves whether we have the courage to replicate good practices like Ganiyari all over rural India." A note submitted by the Planning Commission to the National Development Council stated, "The JSS team has given up lucrative jobs, sparkling city lights and hefty pay packets to develop cheap, accurate and easy-to-use technology that can be used for prevention, diagnosis and treatment of diseases in remote tribal areas of Bilaspur, Chhattisgarh…."
The JSS and its associates have been devoting a lot of effort towards developing appropriate technology that can work in remote rural areas. For example, feeling the need for the diagnosis of urinary tract infections in rural areas, a kit was developed for detecting nitrite and the activity of enzyme leucocyte esterase. This kit can give the report in about 10 minutes and has helped patients a lot.
Their technology facilitating measuring of anaemia status is very useful. The JSS has standardised methods using copper sulphate solutions which allow rapid, very visible and low-cost ways to classify hemoglobin. The technology can be easily used by village health workers.
Among the eight doctors who started this project, four are still attached to JSS. These include Yogesh Jain, Rachna Jain, Anju Kataria and Raman Kataria. The others left for various reasons, but continue to contribute from time to time.
Meanwhile, young doctors continue to join; among them is Sachin Barbde. "I came here because I was keen to associate with the real health challenges of my country." Another young doctor Ashwani Mahajan said the JSS is giving him an opportunity to serve patients while maintaining high ethical norms.
Dr Jain, the overall coordinator of JSS, says, "While we all feel satisfied about achieving our aims while working here, we are also conscious of the tremendous challenges ahead for providing medicare to even remote villages and poorer sections. More and more young doctors need to accept these challenges and we will be happy to share our experiences with them."
Top News
He will also take part in the International Dussehra Fair at...
Defence spokesperson announces this
45-50 people, including women and children, were on the bus
Appreciates India's humanitarian aid; Modi's 'this is no tim...
Another encounter at Moolu in the same district is in progre...