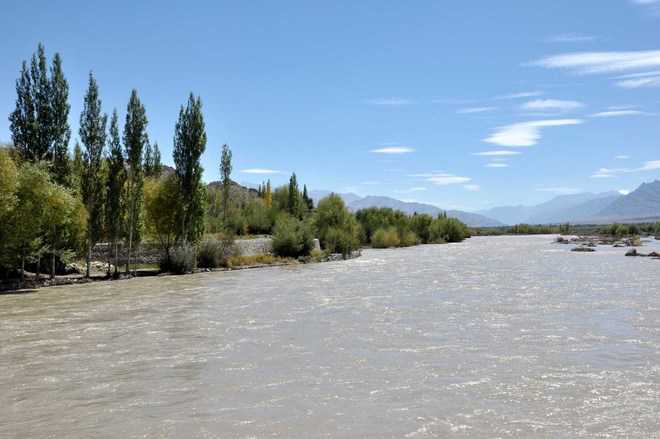 Samaan Lateef
Tribune News Service
Srinagar, September 27
Amid heightened tension between India and Pakistan, the Central government has sought a detailed report from Jammu and Kashmir to suggest ways and means for maximum exploitation of water of three large western rivers falling under the World Bank-brokered 1960 Indus Water Treaty (IWT) between the two countries.
The Centre has asked the J&K Government to explain within one week the scope of enhanced power generation and irrigation from these rivers which flow into Pakistan through the state.
"We received a communication from the Union government on Monday evening to suggest widened scope for exploitation of rivers on which Pakistan has exclusive rights under the IWT," a senior state government official told The Tribune.
The IWT, which was signed by Prime Minister Jawaharlal Nehru and Pakistan president Ayub Khan in September 1960, is a water-sharing mechanism to regulate the flow of the Indus and its five tributaries – Jhelum, Chenab, Ravi, Beas and Sutlej – between India and Pakistan.
Under the treaty, India received exclusive rights of use of waters from the Indus and its eastward-flowing tributaries Ravi, Beas and Sutlej before they enter Pakistan, whereas Pakistan has rights to three large western rivers that first flow through J&K — Indus, Jhelum and Chenab.
Following the Uri attack that left 18 soldiers dead, New Delhi is weighing both military and non-military options to give a befitting response to Islamabad. To review the IWT, the Prime Minister on Monday chaired a meeting with National Security Adviser Ajit Doval, Foreign Secretary S Jaishankar, the Water Resources Secretary and senior PMO officials in New Delhi.
Following the meeting, the J&K Government was asked to submit the detailed report within a week, the official said. Under the IWT, an officials said J&K can't store water on the main rivers but it can generate unlimited hydropower from run-of-the-river power plants, the officials said.
Top News
2 others eject safely I Debris strewn across miles I Sukhoi,...
Visit comes ahead of NSA chief's US tour
Union Ministers call it part of efforts to de-colonise, indi...