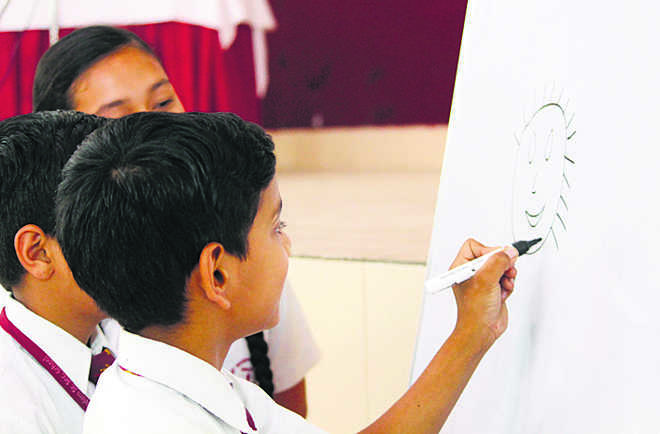 Tribune News Service
Dehradun, September 15
Ghummakkad Narain — the Travelling Literature Festival started in Dehradun today. As many as 500 children were enthralled by poet Viky Arya and storyteller Shaguna Gahilote. While Viky Arya took the kids on a journey to rediscover their self through poetry, Shaguna Gahilote spoke of ancient kingdoms and pre-Independence days through stories.
Viky Arya, a noted poet, writer, illustrator, painter and sculptor, read poems written by Rabindranath Tagore and other contemporary writers to students of Classes VII to IX. Later speaking to The Tribune, Viky said, "Poem is an honest and endearing way of expressing oneself. In the initial years a young poet finds it very difficult to share poetry because the thoughts expressed are private."
"Stories are a great way of getting children to imagine and become creative. It is wonderful to hear that most kids still hear stories from their parents and grandparents as in other places, the art of storytelling is slowly dying," Shaguna said.
Kanchan Seth, Vice-Principal, Jaswant Modern School, said, "Poetry in Hindi is very welcoming as nowadays not many children write in Hindi." The festival will be held at Rashtirya Anushandhan Vidyalaya (RAV) tomorrow and will comprise sessions on illustrations with Viky Arya and more stories of well known travellers Mullah Nassuruddin and Sheikh Chilli by Shaguna Gahilote.
The festival is organised in the memory of the well-known writer and journalist Thakur Vishva Narain Singh. He dedicated his life to translating books for the blind and encouraging children to read.