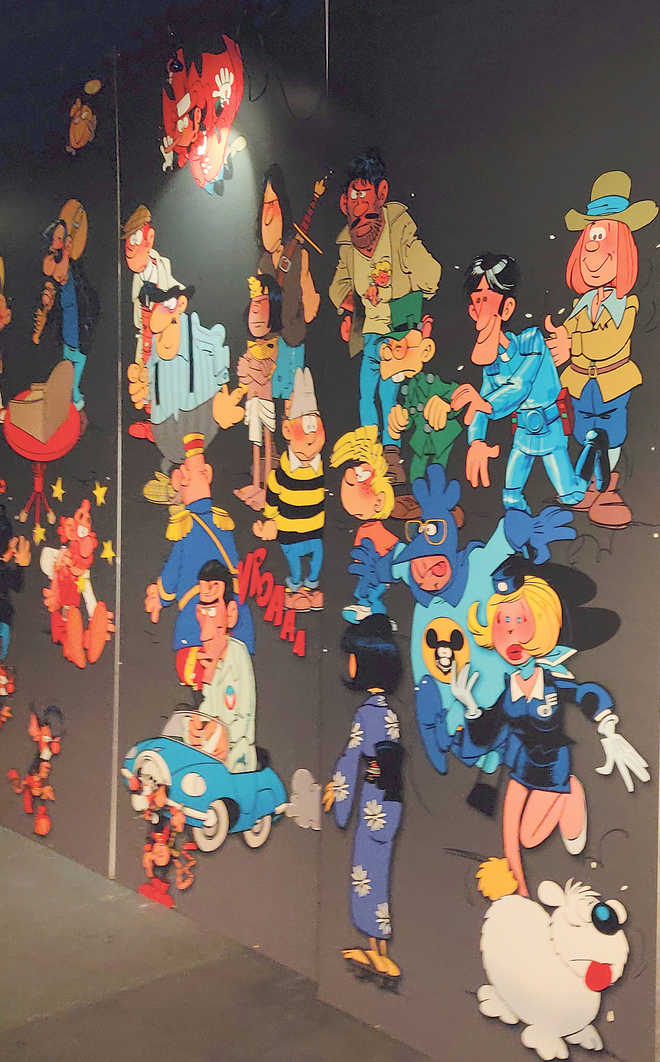 Rashmi Gopal Rao
Comics and comic strips are all pervading in the European city of Brussels, and when you are there, it is hard not to notice them. For it is in this city, which is the land of Tintin and Smurfs, that these are visible on walls, building exteriors, hoardings and museums. So, if comics, comic strips and comic characters are some of the things that excite you, the Museum of Original Figurines (MOOF) in Brussels must be on your 'must-visit' list. A unique museum that contains more than 1,000 figurines and models, MOOF is spread over more than 1300 sq m and is located close to Brussels Central.
Boasting of an exhaustive collection, MOOF is dedicated to various heroes of comic strips and showcases several interesting aspects of their development, evolution and successful journey. So, whether it is trivia related to Lucky Luke, Asterix and Obelix, Smurfs, Spirou, Gaston or Tintin, MOOF has it all.
The colourful ambience of the museum that is filled with figurines of all shapes and sizes is indeed a treat for visitors. Photographs, models and posters that are both adorable and informative make this place very popular with children and adults alike. Most of these wonderfully created sets are the handiwork of young students and artists based in Brussels. There are dedicated sections not only for Belgian and Flemish comics but also for those that have originated in America and other western countries.
Carrying on a legacy
The first part of the museum is dedicated to the success of Franco-Belgian which include several unforgettable characters like Spirou et Fantasio, the Smurfs and Gaston Lagaffe. The museum traces the period where Belgian comics fast grew in popularity and replaced American ones, a phenomenon that reached its peak in the mid-1960s. There are several interesting facts and information on the evolution and growth of the Marsupilami developed by André Franquin and his team. The displays and trivia on the Smurfs are incredible.
The artwork displayed in the models is intricate and the attention to detail is noteworthy. There is an entire section dedicated to the inimitable Asterix and his sidekick Obelix and their colourful adventures in the village of Gaul. Written and created by René Goscinny, the museum chronicles the popularity of the Asterix series of comics that was translated into 111 languages and dialects and has sold millions of copies worldwide. The museum also traces how western genres, themes and stories were incorporated in Franco-Belgian comics after the end of World War II.
Legend of Tintin
Arguably Belgium's most popular and favourite cartoon character and comic series is the iconic Adventures of Tintin. Created by Belgian cartoonist Georges Remi, who wrote under the pen name Hergé, Tintin has been adapted for various media like TV, radio, movies and theatre apart from being a bestseller in several languages. The museum has a comprehensive coverage of Tintin's journey right from 1944-45, when Raymond Leblanc, a visionary businessman and his partners contacted Herge to launch a magazine for the youth titled Tintin. The chronology of events from the 1940s till the 2000s is described in detail and is a treasure house of information on the journey of Tintin. There are several models that illustrate the different adventures of the invincible Tintin apart from detailed literature on Herge.
Encouraging young talent
Inaugurated on September 26, 2006, to mark the occasion of the 60th anniversary of the Tintin magazine, the Raymond Leblanc foundation was set up to honour the cultural heritage created and preserved by Raymond Leblanc during his entire career. The foundation has constituted an award for young talents in comic strips and is a prestigious event in Belgium. The best projects are displayed at MOOF each year.
Top Stories