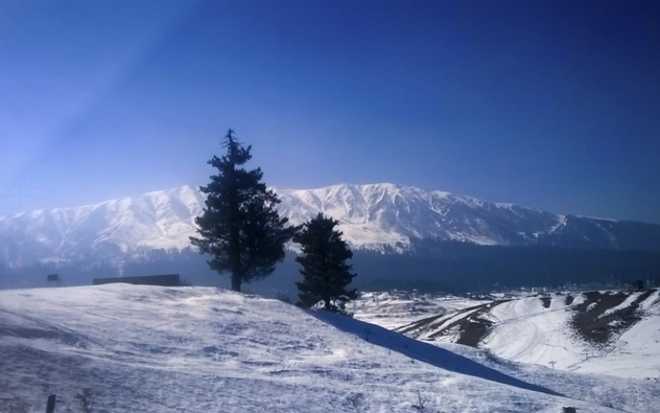 Bismah Malik
Tribune News Service
Srinagar, January 18
Climate change is beginning to affect Kashmir's economy especially tourism as predicted by a Kashmir University study which was published earlier this year.
The Tourism Department is yet to start its winter sports activities in Gulmarg and Pahalgam this year. The authorities concerned are blaming scarce snow for the same.
The tourist footfall has also constantly declined because of lack of winter adventure activities.
A study conducted by the Department of Earth Sciences, Kashmir University, says climate change is beginning to show its effects on winter tourism because unusually rising temperatures have led to reduced snow cover on the mountains of Gulmarg and Pahalgam.
Consequently, climate change is posing serious threats to snow sports activities such as skiing and snowboarding, the study says.
The study says the winter tourism activities will struggle to survive in Kashmir for a long term especially after a decade due to decreased snow precipitation.
"The average minimum and maximum temperatures are showing statistically significant increasing trends for winter months. The precipitation is showing decreasing trends in both the regions. A considerable area in these regions remains under snow and glacier cover throughout the year especially during the winter and spring seasons," says the study.
Shakeel Romshoo, Head, Department of Earth Sciences, KU, told The Tribune that the night temperatures during winter over the past many years has seen an increase of 1.3°C.
"Chillai Kalan sans snow (absence of snow in extreme winters) was observed during 90s in Kashmir. However, over the past few years, we have had reasonable sessions of snowfall. We need to get used to lesser snow during winters now because climate change has a direct impact on snow. The rainfall, on the other hand, has witnessed an increase across the Valley," Romshoo said.
The study corroborates that mountains are sensitive to climate change and that the implications can be seen in less snow, receding glaciers, increasing temperatures and decreasing precipitation.