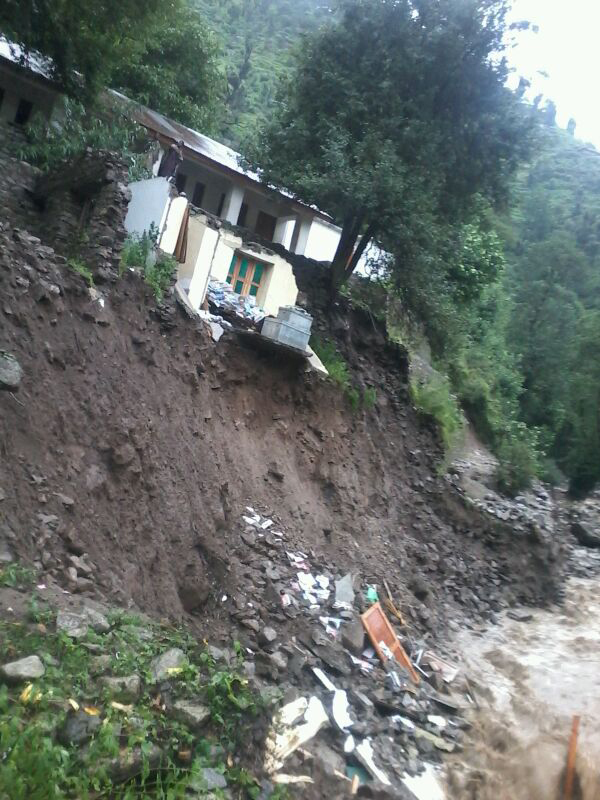 RK Kichlu
Batote, July 29
The six panchayats — Halla-Dhandrath-B, Halla-Dhandrath-C, Draman, Ghaadi, Kumet and Jhatgali-A — in Ramban district, which were hit by the flash floods after a cloudburst on July 26 morning, remained disconnected for the fourth day today as the Karol-Kumet link road remained blocked.
Government High School, Halla-Dhandrath, also remained closed for the fourth day today.
Former Ramban MLA Ashok Kumar, who visited the area on Monday, said the Karol-Kumet link road was still blocked between 13 km and 15 km milestone, in the Draman panchayat and at some other places due to the rolling of boulders through the Lagg Gali, Nausee and Halla nullahs.
The former MLA urged the authorities to clear the boulders from the Karol-Kumet road so that the relief and restoration work could be started in the affected areas soon.
He said the Government High School building and the New Public Health Centre at Halla-Dhandrath were covered in debris and slush.
"If the debris is not cleared from in and around the school and the course of the nullah not changed, its building will collapse soon. The soil in the school compound is sinking and sliding," the former MLA said.
Though Chief Medical Officer, Ramban, Dr Saif-ud-Din said he had ordered for running the hospital in a nearby rented building, local Sarpanch Vedprakash said the hospital had not been shifted yet.
The former legislator said the villagers of Halla-Dhandrath, Draman and other nearby hamlets had no drinking water facility as the water pipelines were damaged and natural water springs were covered with debris.
He urged the government to provide compensation under the flash flood category to those whose crops had been damaged in the cloudburst.