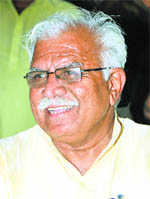 Geetanjali Gayatri
Tribune News Service
Chandigarh, January 18
Nearly half way through his five-year term, Haryana Chief Minister Manohar Lal Khattar seems to have finally got cracking. He has donned the role of a teacher and conducts surprise tests of senior bureaucrats on the status of his pet projects.
Caught unawares, most of the officers fumbled for answers even as the Chief Minister gave them time to be abreast of the developments and announced such weekly tests on the projects he wanted to push.
Sources said Administrative Secretaries of key departments received a call from the CM office asking them to be present in his office for a meeting which was scheduled for yesterday. The officers, divided into groups of five, were given different timings and no clue of the agenda under discussion.
The officers said when they reached the meeting room, the entire Cabinet was already present for the routine informal meeting held every Tuesday.
The Chief Minister is learnt to have produced a list of over 50 projects that he wants hotly pursued and completed. Sources said he began by asking the Administrative Secretaries about the fate of their respective projects seeking all kinds of details.
With the ministers also present at this informal meeting, he sought replies and gave the officers a week to get their act together before they were expected to come back with the progress made. "The Chief Minister asked us the status of the projects and has directed us to set weekly targets for the same and achieve these within the stipulated time. These will be reviewed by the Chief Minister on a regular basis," an officer explained.
The sources said the Chief Minister wanted to know the progress made in "gau samvardhan" and the opening of "gau-abhayaranyas" (cow sanctuaries) in Haryana. He is learnt to have taken a lot of interest in a scheme being framed to provide subsidised meals on the lines of Chandigarh.
"Khattar has drawn up his own list of priority projects of public welfare which, he wants, should reach a logical conclusion. The officers, after yesterday's meeting, know that they have to pull up their socks and get down to delivery since the Chief Minister will personally monitor the projects. Also, with the Cabinet attending the meetings, all ministers, too, have been given the message that they can no longer sit over files and decisions and need to expedite them at the earliest. This should speed up government working," the sources said.
They maintained that "Tuesday tests" could become as regular as the informal weekly Cabinet meetings held to discuss various issues, a concept introduced after the BJP government assumed charge in the state.
Top News
No militant group has claimed responsibility for the attack
AIADMK leads demand for passage of Women's Reservation Bill ...
Said while rapists and murderers were being released under r...
The bench takes note of the submissions by lawyer ML Sharma ...
Csaba Korosi also wondered why there is still no agreement o...