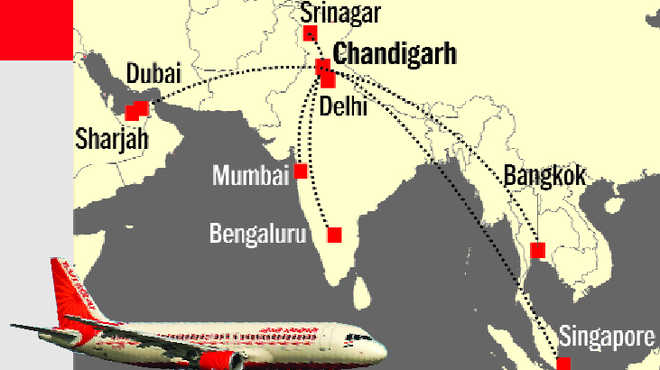 Nitin Jain
Tribune News Service
Chandigarh, October 2
The international airport in Mohali is spreading its wings, though slowly and steadily. After the launch of two international direct flights to Sharjah (thrice a week) and Dubai (daily) last month, two more international direct flights to sought-after destinations Singapore and Bangkok are set to take off from here in March.
Besides, an additional direct flight to Bengaluru will take off on October 9, airport director Suneel Dutt told The Tribune here today. It will take 3.05 hours to cover the distance between Chandigarh and Bengaluru.
IndiGo will launch the second direct flight from Chandigarh to Bengaluru. The daily flight from Bengaluru to Chandigarh will take off at 7.10 am and land in Chandigarh at 10.15 am while it will take off from Chandigarh at 10.45 am and land in Bengaluru at 1.50 pm. Already, AirAsia is operating a direct flight between Chandigarh and Bengaluru.
Moreover, direct flights to several other domestic destinations, which are presently not connected directly with Chandigarh, are also in an advanced stage of finalisation.
The direct flights to Singapore and Bangkok will be launched by Air India, which had launched the first international flight to Sharjah from here on September 15.
"We have got the requisite clearances for direct international flights to Singapore and Bangkok from Chandigarh and they have been scheduled to take off before the end of March next," Air India Chairman-cum-Managing Director (CMD) Ashwani Lohani told The Tribune.
Keeping in view the potential destinations, Air India will launch direct flights between Chandigarh and Singapore and Chandigarh and Bangkok thrice a week.
Air India Express, a low-cost carrier and subsidiary of flag carrier Air India, has inducted three new aircraft into its fleet this year and will induct three more next year. It currently operates about 350 flights per week of which flights on the India-UAE routes account for 275 flights per week.
Top Stories