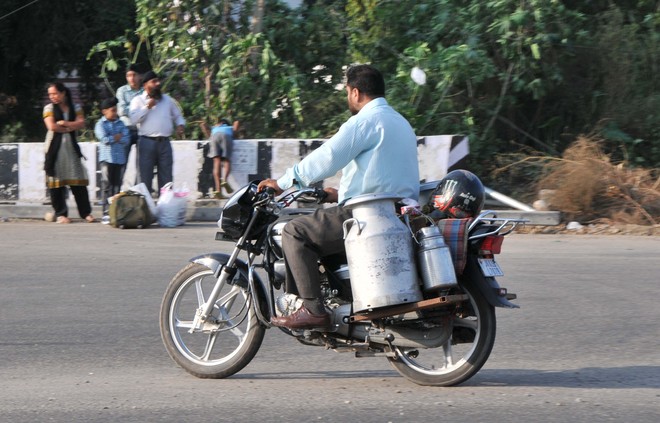 Tribune News Service
Jammu, October 16
With the start of festive season with Navratras, the milk adulteration has also increased in the city. There is no check on milk adulteration, where milk vendors are adding water to milk on regular basis and cheating consumers.
The worst affected are small children, who are fed adulterated milk as pure milk is not available in the market. If at a few places pure milk is provided, the rate goes above Rs 50 per litre. "You can get best quality of everything from the market, but not the milk. Neither the packed milk, nor the local vendors' milk is pure. Mixing has become a habit of every vendor, which is costing our children, especially the infants, their health," said Sarita Sharma, a homemaker in Jammu. "When we insist the vendors for providing pure milk, then they increase the price and after a month the quality start decreasing again," she added.
The tall claims of the authorities have fallen flat, as the adulteration continues under their nose. The state government had shifted the charge of inspecting food product from the Health Officer of the Jammu Municipal Corporation (JMC) to the Controller, Drug and Food Organisation, J&K, on October 25, 2014, but nothing has been changed. People are being forced to consume the adulterated milk available in the market.
A milk vendor said, "If we start selling pure milk at Rs 50 per litre, the authorities will book us for overcharging and the fact is that we can't even survive on this rate. So we are left with no other option, but to compromise with the quality for our own survival."
The department randomly picks samples from the vendors and send it to laboratories for testing. But it has not prevented traders from adulteration.
Lotika Khajuria, Deputy Controller, Drugs & Food, Jammu, said, "We have not started any drive as yet, but the routine work of sample collection and testing is on. We collect all kind of samples like packed milk, milk used in shops and local vendors' milk. Wherever we find any substandard milk, we destroy it on the spot." She said, "The department is planning to start a drive against the adulteration of milk during this festive season."
Top News
Lalpura first Sikh to find place on party's parliamentary bo...
Next hearing on August 22
2019 study says Delhi, Kolkata most polluted | Bad air kills...