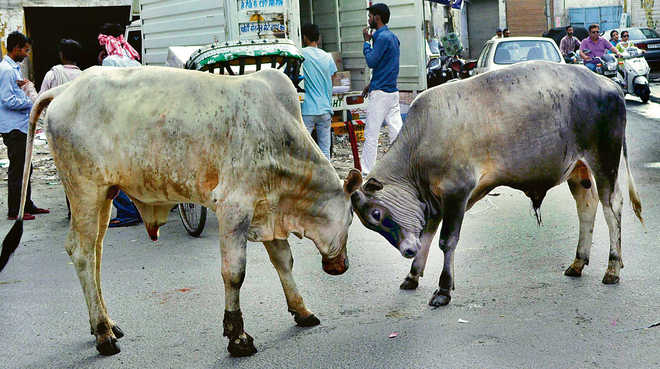 Rajmeet Singh in Chandigarh
The Punjab Government has been levying cow cess on liquor, fuel and some other items since 2016, but is yet to release the entire revenue collected for the intended purpose — bovine care at gaushalas. The Excise Department owes nearly Rs 41 crore, Transport Department Rs 16 crore and PSPCL Rs 520 crore.
---
Read also:
---
Of the nearly Rs 34 crore collected by urban local bodies as cow cess since 2016, only Rs 25 crore had been distributed for feeding the cattle till July this year. Of the 167 urban local bodies, 52 in Patiala, Bathinda, Ferozepur, Ludhiana, Jalandhar and Amritsar were yet to notify the cow cess levied on different items by the respective urban bodies.
Reality check in state
The Punjab Government has still not put in place any concrete action plan to deal with the enormous challenge at hand. The chromic issues remain unaddressed at government-run cattle pounds — paucity of funds, inadequate fodder, poor infrastructure, no semblance of management. The 510 privately-run gaushalas in Punjab too are bursting at the seams with 3.84 lakh stray cattle. As per official data, there are 9,484 stray cattle at the cow shelters in 20 districts. Keemti Bhagat, former chairman of Punjab Gau Sewa Commission, claims that barring a few gaushalas, others are underutilised. "Against a projected capacity of 1.25 lakh stray cattle, there are around 14,000 stray cattle in the 20 shelter homes. In Muktsar, 10 large sheds were constructed. But there are just 350 cows," he says.
Compounding problem
Enquiries reveal that the problem lies in poor utilisation and monitoring of government-run gaushalas in each of the 22 districts. In the 2018 monsoon session of the Vidhan Sabha, data shared by the Animal Husbandry Department revealed that the government-run gaushalas were being used to 50 per cent of their capacity. In wake of the increased stray cattle menace, the Local Bodies Department has sought fresh data on the utilisation of gaushalas. While the Local Government department releases daily assistance ranging from Rs 15 to Rs 30 per cattle, the actual cost comes to around Rs 100.
Cow cess levied (as per 2015 notification)
Rs 1,000 and Rs 200 on sale of four-wheeler and two-wheeler vehicles, respectively
Rs 10 on every bottle of IMFL
Rs 5 on Punjab Made Liquor and Beer
Rs 1,000 per function at AC marriage palace
Rs 500 for non-AC marriage palace
Rs 100 on oil tanker per round
Rs 1 per cement bag
2 paise per unit of electricity
Numbers tell story
As per the 2012 census, there are 1.10 lakh stray cattle in Punjab
There are 470 registered gaushalas in Punjab
20 government-run cattle pounds have been set up
Government-owned cattle sheds house 9,000 cows
Killer horns
Year Deaths Injured
2016

102

57
2017

154

127

2018

114

42
Top Stories