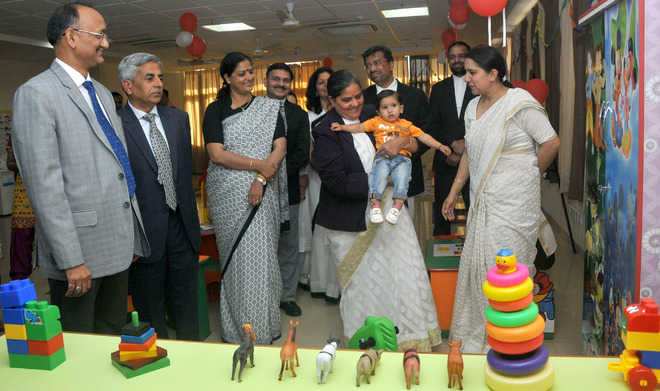 Tribune News Service
Mohali, March 29
In a first-of-its-kind initiative, the District Legal Services Authority (DLSA) opened a crèche for the staff at the Mohali Judicial Complex today.
The crèche, which witnessed 17 admissions on the first day, was inaugurated by Justice Daya Chaudhary, a Senior Judge at the Punjab and Haryana High Court, in presence of another HC Judge Hari Pal Verma.
Surinder Gupta, Administrative Judge, Mohali, and local bar members were also present on the occasion.
Giving information, Monika Lamba, secretary of the DLSA, Mohali, said that the crèche had all facilities, including toys, story books, beds, pantry and six officials to take care of children.
"It's a first-of-its-kind initiative, which is free of cost," said Monika Lamba adding that the creche would remain open from 9 am to 5.30 pm. Justice Daya Chaudhary said such steps would increase the efficiency of the women staff, whose number had increased in the past some time.
Top News
Pakistan national to visit ancestral village in Bathinda after 75 years
Reunited with brother 4 months ago at Kartarpur Sahib