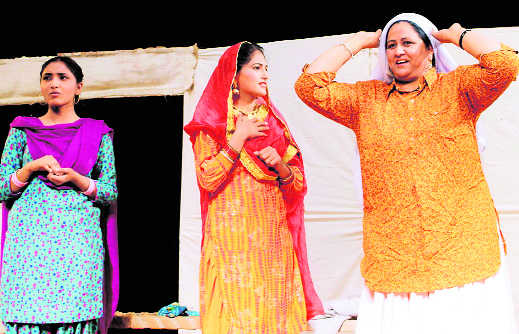 The first cultural fest was organised by the Department of Law of Government Mohindra College, Patiala, on Sunday. The event was graced by president of the District Bar Association advocate BS Bhullar, vice-president advocate Avneet Billing, secretary advocate Sanjay Khanna, principal of Mohindra College Dr Sukhbir Singh Thind and vice-principal Tripti Sharma. The function was inaugurated by the guests. The fest included a total of 27 performances. At the end, the judges declared the winners. The team which won in the group performance category was the bhangra team. The winners in solo dance and solo singing were Simranjot and Navjot, respectively. Head of the Law Department Dr Sanjeev Mehta proposed a vote of thanks.
Probe against Dy Controller (Local Audit) welcomed
The Punjabi University Reemployed Professors Association (PURPA) has welcomed the probe ordered by the Punjab Government against Deputy Controller (Local Audit) Kartar Singh. Members of the executive committee held a meeting on the campus here on Sunday to discuss the situation prevailing in the university. Prof Jaswinder Singh, convener of the association, said the association would extend all cooperation to the inquiry officer. He said reemployed teachers had in fact been demanding this probe since December 2015, when this official had allegedly demanded bribe to release the salaries of some of the teachers in connivance with some other university officials. The members demanded the removal of the DCLA and others, who were involved in the episode, till the completion of the inquiry.
Water wastage: 38 notices served on violators in Mohali
A total of 38 notices have been issued to offenders of wasting water in Mohali town so far. The Municipal Corporation has put a ban on washing cars through water pipes, watering gardens, lawns in morning hours and washing verandahs to stop wastage of water. Giving information, an official concerned said 38 notices had been served on offenders in this regard so far. "The second-time offender will be fined
Rs 2,000. In case of the third-time offence, the water connection will be cut without giving any notice", said the official. The ban in question will continue till June 30.
Traffic hit after mishap on Zirakpur-Kalka highway
A collision between a tipper and an Alto car threw traffic out of gear near the K-area on the Zirakpur-Kalka highway here on Sunday. Commuters heading towards Panchkula were a harried lot as they remained stuck for nearly an hour and half in a snarl-up caused by the accident. According to the traffic police, a loaded tipper (PB-65-J-0225) and an Alto car (PB-11-AN-7494) were heading towards Panchkula at around 11 am when the mishap took place. TNS
Cong workers burn Kirron's effigy for over poll promises
Congress workers burnt the effigy of Member of Parliament Kirron Kher at Colony Number 4 on Sunday. While addressing a gathering, leaders of the Chandigarh Congress alleged that she failed to fulfill the promises made to residents of Colony No. 4 for their rehabilitation. Mohammad Sadik, Shashi Shanker Tewari, Ajay Joshi, Yadvinder Mehta, RP Shukla, Harjinder Bawa and other leaders of the party were present on the occasion.TNS
Water wastage: 38 notices served on violators in Mohali
A total of 38 notices have been issued to offenders of wasting water in Mohali town so far. The Municipal Corporation has put a ban washing cars through water pipes, watering gardens, lawns in morning hours and washing verandahs to stop wastage of water. Giving information, an official concerned said 38 notices had been served on offenders in this regard so far. "The second-time offender will be fined of Rs 2,000. In case of the third-time offence, the water connection will be cut without giving any notice", said the official. The ban in question will continue till June 30.TNS
Renovated Community Centre inaugurated in Sector 28
B Purushartha, Commissioner, Municipal Corporation, Chandigarh, on Sunday inaugurated the extended and renovated Community Centre in Sector 28, here in presence of Devinder Singh Babla, area councillor, NP Sharma, Chief Engineer, other councillors, officials and prominent persons of the area. While addressing the gathering, the Commissioner said the Municipal Corporation was providing high quality services in the new community centres and those community centres having old structures had been beautified by extending the buildings and other facilities in them.TNS
One killed in mishap
Kharar: Shiv Kumar, a resident of Kharar, died while another local resident, Charanjit Singh, was seriously injured in a road accident near Doaba College on the Kharar-Kurali road on Sunday. Charanjit Singh, along with his employee Shiv Kumar, was returning from Kurali in a car when they were hit by a truck. Both were seriously injured and rushed to the Civil Hospital, Kharar. Shiv Kumar died on the way to the hospital. Charanjit Singh has been admitted to the hospital. The Kharar police have registered a case against the truck driver. Meanwhile, Harneik Singh, an employee of the Electricity Department who was seriously injured in a road accident on March 19, died at a Sector 32 hospital in Chandigarh on Sunday. The police said Harneik was on his motorcycle when a truck hit him from behind. He was rushed to the Civil Hospital, Kharar. Later, he was referred to the Sector 32 hospital. OC
FOSWAC meet held
Chandigarh: Baljinder Singh Bittu, Chairman, Federation of Sectors Welfare Association Chandigarh (FOSWAC), has raised a concern over increasing law and order problem in the city. Several cases of vehicle thefts, wheel thefts and snatching are reported everyday in the city. During a meeting of the executive committee of the residents' body held at the community centre in Sector 44 here on Sunday, Bittu said the Chandigarh Police had been apprised of the deteriorating law and order situation many times but there had been no satisfactory improvement in the situation. Traffic in the city was increasing continuously for the past few years but no concrete steps had been taken to manage it, he added. FOSWAC vice-chairman Hitesh Puri drew attention of the House towards the basic problems the citizens were facing. Problems of shortage of water supply and low water pressure were being felt at several places, especially in southern sectors, at the onset of summer, he said. TNS
114 attend diabetes camp
Chandigarh: Worldwide every second, a lower limb is lost due to untreated diabetes. In India, around 1-lakh amputations occur every year due to diabetes-related disorders. Out of the 62 million diabetics in the country, 25 per cent develop sores, ulcers and life-threatening infections on their feet at some point of their life. This was informed by Dr SK Mathur, Director, Endocrinology, and Dr Rishi Dhawan, plastic surgeon, while addressing a press conference at the Chandigarh Press Club on Sunday to announce the launch of a Comprehensive Foot Care Clinic at Max Super Specialty Hospital, Mohali. Meanwhile, a free foot diseases and diabetes camp was held on the occasion. As many as 114 people attended the camp. TNS
Palm Sunday celebrated
Chandigarh: Palm Sunday was celebrated at St Thomas the Apostle Church, Sector 24 here, in the presence of Mar Kuriakose Bharnikulangara, the archbishop of the Faridabad diocese. A small procession was held where devotees carried palm leaves and chanted "Hosanna hailed Christ". This marks the beginning of the holy week, which includes Maundy Thursday (Jesus having last supper with his disciples), Good Friday (crucification of Jesus) and Easter (resurrection of Jesus) on Sunday. When Jesus returned to Jerusalem after 40 days of fasting, crowd welcomed him as messiah by waving palm leaves. Hence, the remembrance of the event derives its name Palm Sunday. TNS
Havan by Kashmiri Pandit Sabha in P'kula
Panchkula: Hundreds of people, especially members of the Kashmiri Pandit community, participated in a havan organised by the Kashmiri Pandit Sabha (KPS) in connection with Chaitra Purnima at the Shiva temple in Sector 9 here on Sunday. The kalash puja that started at 9 am on Saturday evening culminated with a puran ahuti on Sunday. The community members from Zirakpur, Dera Bassi, Dhakauli and Pinjore prayed for peace and prosperity of people. The chief guest on the occasion was NK Sharma, MLA, Dera Bassi. TNS
Man held for theft
Chandigarh: A man has been arrested by the Chandigarh Police for theft. According to the police, Kuldeep Singh, a resident of Mani Majra, alleged that Pankaj Sharma, Ravi Shankar and others stole the hydraulic pump of an earth-moving machine from his shop in Motor Market, Mani Majra, on the night intervening April 4 and 5. A case has been registered at the Mani Majra police station against the accused. One of the accused, Ravi Shankar, has been arrested by the police. TNS