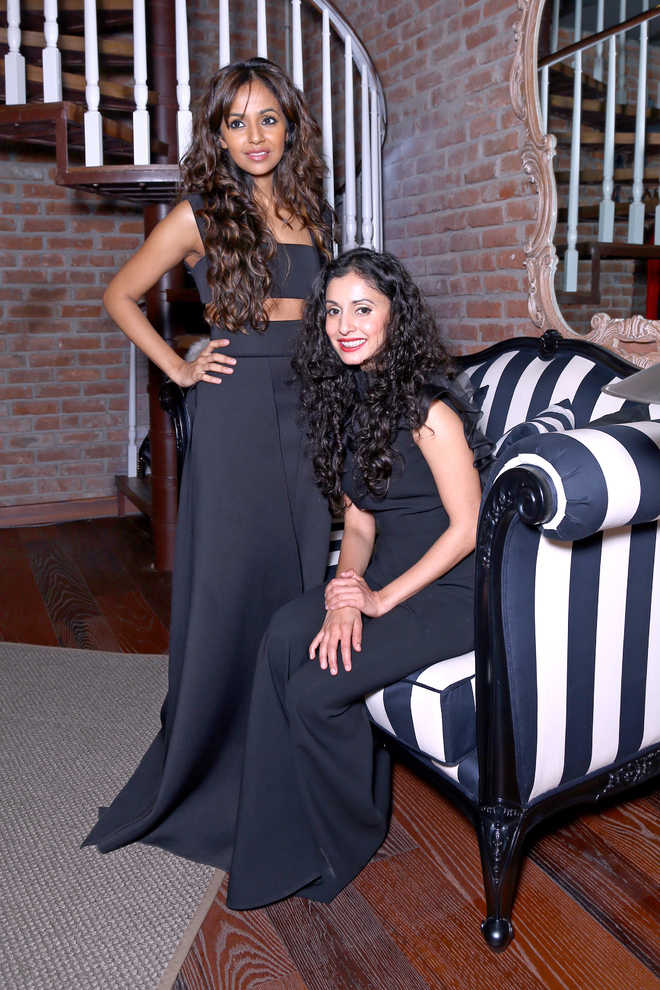 Shashi Sunny
What Sabyasachi is to bridal wear and Aneeth Arora is to prêt, Gauri and Nainika are to the red carpet dressing up. Their gowns didn't follow the popular rule of fusion fashion — bling was done away with, so was the ethnic silhouette of Anarkali. The creations were every bit gowns — very international, akin to what we have been seeing and admiring on the Hollywood red carpet occasions.
In no time, designer sisters Gauri and Nainika Karan became favourites with Bollywood actresses. They chose to steer clear of the bridal-lehenga market and forayed into a comparatively new genre in the Indian market. They say, "When we were growing up, we loved watching old Hollywood films, so when we decided to make a career in designing clothes, we knew our calling." They were the first in the fashion industry to do western wear in couture.
Do you ever have a difference of opinion?
Nainika: Not at all. We work really well as a team and we complement each other.
Gauri: I look at the broader picture while Nainika is all about details. I am all about ideas, silhouettes, shapes and inspiration. Nainika is excellent with detailing and fabrics and gets into the nitty gritty of construction, cut and fittings and handles all other aspects of tailoring.
How would you describe Gauri and Nainika's signature style?
Gauri: It's very feminine, glamourous yet classic. Our garments are well-structured and follow the bodyline very closely. The silhouettes are clean. Gowns have always inspired us and we wanted to professionally work with what we loved. Also since no one else was doing it, we knew there was an untapped market, waiting to be explored.
Your designs are a favourite with many celebrities? What makes a Gauri and Nainika design so perfect for showtime appearances?
Nainika: The first star we dressed for the red carpet was Bipasha Basu. Then we did Deepika Padukone for her first Filmfare award and Bipasha again for the Filmfare. Since then, we have been dressing up a lot of actresses and it has always been a great experience. We enjoy working with Bipasha, Deepika and Katrina because they love our clothes, style and design philosophy and trust us to come up with something that works for them. It's always nice to work with stars who trust you as a designer and leave it to us to decide what suits them best.
Do you think celebrities have a role to play in the success of fashion designers, especially when Bollywood personalities wear a designer's creation?
Gauri: It is a very important factor. It works for both if the celebrity's sense of style complements the designer's brand. Fashion and cinema work in tandem. Fans want to emulate their favourite stars. It helps designers as they get instant visibility, and as for the star, they get to be styled perfectly. It is a win-win for both.
Who are your favourite designers?
Gauri & Nainika: We like Rohit Bal and Sabyasachi Mukherjee.
What has been the most memorable moment of your career?
G&N: There have been so many. It was a great moment when we launched our label in 2002. Then in 2004, we did our first fashion show. It was inspiring to see Aishwarya Rai in one of our creations. All memories are very precious and motivating.
What is the biggest challenge in the fashion industry?
G&N: To constantly evolve. One cannot get too comfortable with a typical style. Fresh concepts need to be introduced all the time. We cannot afford to get jaded.
What are your future plans?
Nainika: We would like to open a store in Mumbai. We have opened one in Delhi last year and then in London and Paris. It is difficult for an Indian designer to break into the western market.
Top News
Chennai airport operations suspended from 9.40 am to 11 pm
Group of militants on their way to Myanmar ambushed by anoth...
Court of Inquiry ordered to ascertain the cause of accident
Punjab MP was suspended on August 11
The report was mentioned in business list at number 5 in the...