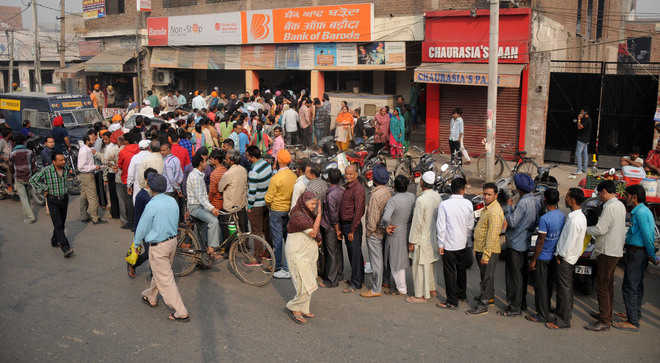 Minna Zutshi
Tribune News Service
Ludhiana, November 10
Long queues in banks, fracas at toll plazas, long wait at post offices, longer-than-usual queues at fuel stations – the second day post demonitisation had its share of troubles.
Commuters had a tough time at toll plazas. At the Raikot toll plaza, the people manning the toll plaza refused to accept the scrapped notes of Rs 500 and Rs 1000 denomination. They were seen having heated arguments with commuters. As commuters tried to reason out that the toll tax had been suspended till November 11 midnight, the toll plaza attendants said that only the national highways had been made toll-tax free for two days. An eye witness said that the attendants and some commuters almost came to blows. "What is our fault? The toll plazas should accept the demonitised currency at least till November 11 midnight," said a harried commuter.
The banks remained packed to the capacity, with customers making a beeline for the banks for exchanging the scrapped denominations. At many banks the queues spilled over to the road. Some banks in the city were out of cash well before noon. There was confusion about the working hours of the banks. A city resident said after reading media reports on banks being instructed to extend their working hours to clear the rush of customers, he went to the State Bank of Patiala around 5.30 pm. He was told that the bank timings were from 10 am to 5 pm. The bank officials told him that they had received no instructions to extend the banking hours.
Meanwhile, there was no letup in rumours and speculation. Traders and small-time businessmen, who received payments today in new denomination of Rs 2,000, had reservations about its authenticity. Many contacted media offices to confirm whether the new notes of Rs 2,000 denomination were in circulation now.
Sources said some unscrupulous persons were reaping profit by engaging in illegal transactions. Some were reportedly making 'profit' by changing the demonitised currency notes of Rs 1,000 and Rs 500 at a price. "I have heard that a man is charging 20 per cent for the exchange," said a city resident, pleading anonymity.
Residents speak
Today was the second day since Prime Minister Narendra Modi announced scrapping of Rs 500 and Rs 1,000 notes. Many residents faced inconvenience for they were left with no money to buy necessary things while others hailed the decision. The Tribune correspondent talked to a cross-section of society:
Will prove to be a good decision
The demonetisation has definitely caused inconvenience to the public but it will prove to be a good decision in the long run. Those who have hard-earned money do not have any problem but those who had been busy collecting black money for the past many years have been defeated in one stroke. — Dr Jasbir Singh
A step in right direction
Though the step taken by the government will prove to be in the right direction, a lot of inconvenience is being faced by everyone. Since most of the money with the people was in Rs 500 and Rs 1,000 denomination, they have been left in the lurch and are unable to buy even the necessary articles. — Vinod Kumar, shopkeeper
Everything will be normalised soon
It is only a matter of few weeks and everything will be normalised. It will lead to a fresh start to economy. Today, I understand the value of money. I am spending cautiously and thinking how I can also survive with a few bucks in my hand". — Varinder Sharma, a retired employee
Traders have been hit hard
Business has come to a standstill due to this sudden decision. No sale and purchase is going on and the trading community has been affected hard. There is no money in the market. We cannot purchase any material, nor can anybody buy things from us. There is an uncertainty in the market and we hope everything will become normal shortly. — Nalesh Kumar, shopkeeper
Top Stories