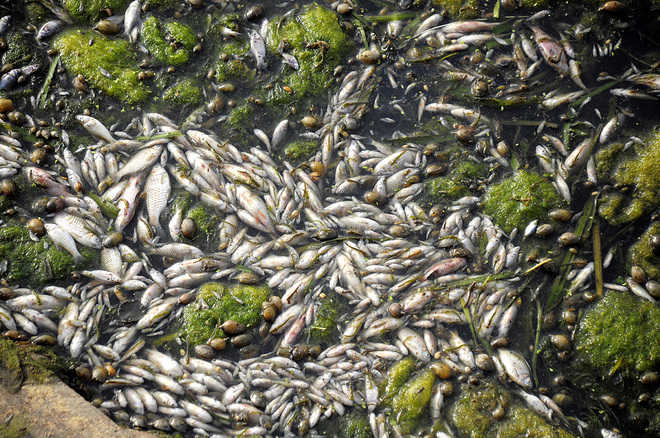 Tribune News Service
Jalandhar, April 7
In a grim repeat of 2015, thousands of fish turned up dead at the holy Kali Bein days ahead of Baisakhi. After the fish were found floating, teams of the PPCB, Fisheries Department, MC chief and Sultanpr Lodhi MLA Navtej Cheema rushed to the spot.
While the restoration of the Kali Bein's flow was solely due to the efforts of Sant B S Seechewal, the dead fish once again exposes the administration's apathy towards the cause of water conservation.
Seechewal blamed the unfortunate incident on criminal official negligence. While officials have displayed a callous lapse in the upkeep of the Bein, they also do not care for the aquatic life dying.
Rubbishing official claims of unsustainable levels of marine life in the Bein, he said this was just an excuse to cover serious lapses by the former.
He said before this in 2012 and 2015 as well, fishes in the Holy Bein had died in large numbers. He said they had removed trolley —full of fishes from the water course.
He said lack of clean water into the Bein was the prime cause of the disaster. The irrigation department snapped the water flow ahead of Baisakhi which would also effect Sikh devotees who take a dip in the Bein on Baisakhi eve. MLA Navtej Cheema said efforts to restore water supply into the Bein shall be made soon.
PPCB XEN Ashok Garg confirmed that the lack of clean water from the Mukerian Hydel Channel has caused the recent crisis. Sullage from Kapurthala was also dumped into the Bein. We have filed a case against the Kapurthala Nagar Council, he added.
The fisheries department has taken remedial measures to restore oxygen supply in the Bein.