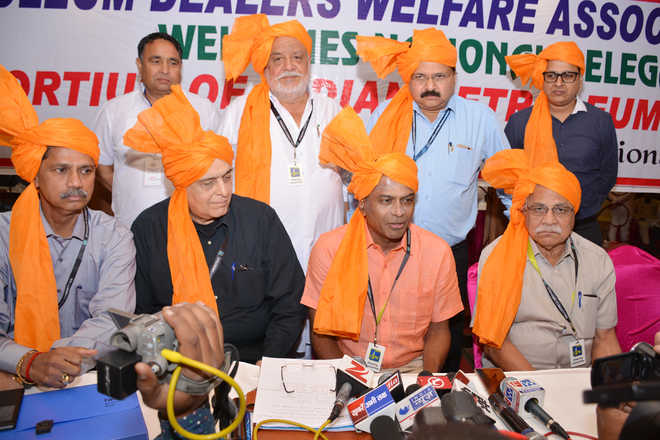 Vishal Joshi
Tribune News Service
Kurukshetra, April 9
The Consortium of Indian Petroleum Dealers (CIPD) today announced to open petrol pumps only for eight hours in a day across the country after May 10.
After a meeting ofrepresentatives from various states here, theCIPD said petrol filling stations would stop their working on Sundays from next month.
AB Sathyanarayan, national president, CIPD, alleged that the indifferent attitude of the top management of the public sector oil companies forced the association to take the decision.
Sathyanarayan said that strong measures were being taken for cost cutting by the dealers.
He said nearly 55,000 dealers were members of the association and allwould observe the decision taken today.
He said the Apurva Chandra Committee, appointed by the Union Ministry of Petroleum and Natural Gases in 2010, had recommended margin money to be given to the petrol dealers.
Sathyanarayan said the oil companies partly implemented the report of the committee and clause of margin money was overlooked since 2011.
He said in the absenceof margin money payment in the last seven years,the petrol and diesel retailers were unable to bear the increasing cost of lighting, human resources and other facilities at the filling stations in the multiple shifts.
"Since December last, oil companies have been assuring to implement the omitted clause. If the oil companies fail to execute the committee report by May 9, CIPD has unanimously decided to take own measures to bring down the costs," he said.
Ramesh Kundanmal, chairman, CIPD's legal cell, said the public-sector oil companies had introduced a stringent rule of terminating dealerships of the retailers who failed to increase sales.
"The draconian step is designed to benefitcertain private playersin the oil retail sales. Instead of supporting the chain of retailers by giving them their full financial dues, the companies are out to muzzle us," alleges Kundanmal.
Haryana's Minister of State for Food andCivil Supplies Karan Dev Kamboj also attendedthe meeting.
Kamboj said being a petrol pump owner in Yamunanagar, he understood the hardships faced by the retailers and extended support to CIPD.