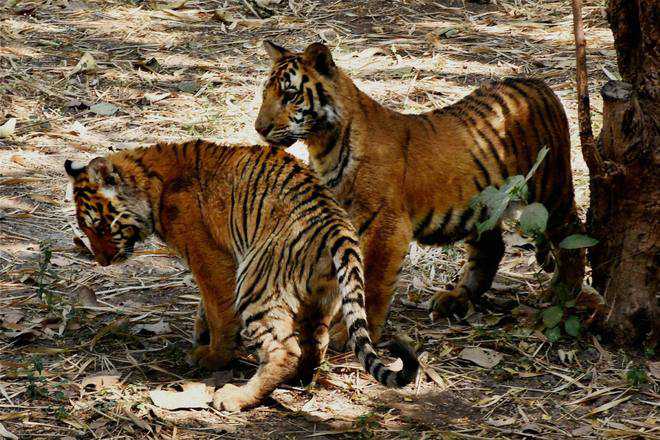 Tribune News Service
Dehradun, December 19
The High Court on Monday directed the Centre to declare 10 km of the area around the Jim Corbett National Park and other parks and sanctuaries in Uttarakhand as eco-sensitive zone within six months and also prohibited the state government against declaring any wild animals as man-eaters.
In separate directives to the Union and state governments, Justice Rajiv Sharma and Justice Alok Singh of the High Court, while hearing a writ petition on forest fire in Uttarakhand, gave extensive directions for the protection and conservation of forests and wildlife.
It directed the Union government to frame a national forest policy in line with the United Nations resolutions arrived at from time to time.
Directing the Central Government to declare eco-sensitive zones, it had also imposed a ban on fresh construction within the radius of 10 kms around the parks.
Further, the court had also directed the state government not to declare wild animals, including, tigers, leopards, etc, as man-eaters.
Perhaps taking note of the manner in which the pictures of dead animals were displayed by the media, the court had issued directives against the display of the body of animals in print and electronic media.
Further, the judges had also directed that the wild animals posing threat to human life should be captured alive with the help of a tranquiliser gun and should be released in the wild or kept in the zoo temporarily. The court has banned killing of wild animals by private hunters. Instead it had ordered the constitution of a committee under the Principal Secretary, Forest, to decide upon the matter of wild animals causing threat to human beings.
Taking note of the electrocution of elephants, the court had directed the state government to follow the notification issued in 2009 (project elephant) for saving them. It had also ordered death penalty for poachers.
Issuing directions to the state government for taking measures against forest fires, the court ordered for appointing at least 10,000 fire watchers to detect and contain fire. It also ordered the eviction of gujjars, who have encroached upon the forest land, within one year.
The court noted that till May 2016, 1,798 cases of fire were reported and the forest area had been reduced by 268 square kilometres.
Top News
'We have concerns about the price of oil but we are a USD 2,...
The voting on the motion of confidence will be held on Octob...
SC Bench ejected the plea of the Uddhav Thackeray-led factio...
Ashok Gehlot likely to stay Rajasthan CM; Pawan Bansal colle...