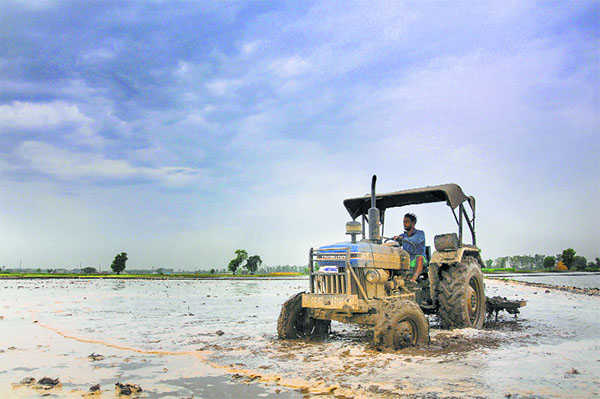 CAN a mere fee regulate groundwater extraction? That's what the National Green Tribunal (NGT) asked recently while observing that the Central Ground Water Authority's (CGWA) December 12 notification was against "national interest."
It seems the CGWA's parent body, the Union Ministry of Water Resources, River Development and Ganga Rejuvenation, cannot think in terms of a policy for groundwater, which is what the NGT had asked, not a price-tag list.
This policy blindness is the biggest obstacle to achieving better groundwater governance. India's water lifeline is groundwater, with two-thirds of the irrigated area, 85 per cent of rural water needs, and over half of the urban and industrial water needs being served by it. The graph of dependence on groundwater is going up for all these sub-sectors. The National Water Policy needs to acknowledge this reality: whether we want it or not, like it or not, groundwater is and will remain our lifeline in the foreseeable future.
Once that is acknowledged in the National Water Policy, we will need to understand where groundwater comes from. The natural recharge systems include the forests, wetlands, rivers, flood plains and local water bodies. We need to protect these systems and take measures to enhance recharge from the same. Where necessary and scientifically feasible, we can add artificial recharge systems.
But most importantly, we would then start seriously thinking about groundwater regulation. The CGWA, set up under the Environment Protection Act (1986) on January 14, 1997, following the Supreme Court order of December 10, 1996, has proved itself to be worthless in this respect. After being in existence for close to 22 years, it cannot show a successful example of regulation anywhere in India despite having sweeping powers to achieve that. The revolving door that exists between the CGWA and CGWB (Central Ground Water Board) has essentially made it to be a licensing body, worsening the groundwater situation.
What has the CGWA been doing? In its own words, "issuing 'no-objection certificates' for groundwater extraction to industries, infrastructure projects, mining projects etc., and framing guidelines in this connection from time to time in 20 states and three union territories, where groundwater development is not being regulated by the state government or UT administration concerned."
The states/union territories where the CGWA is not regulating groundwater currently are Delhi, Andhra Pradesh, Kerala, Karnataka, Tamil Nadu, West Bengal, Telangana, Goa, Jammu and Kashmir, Himachal Pradesh and Puducherry. However, the new notification will have pan-India applicability.
The guidelines and critique
The guidelines come into force from June 1, 2019 (why should these not be implemented immediately?). Groundwater use for individual households for drinking purposes for supply line up to 1-inch diameter does not require mandatory rainwater harvesting. Installation of digital water meter is also not mandatory in this case.
Infrastructure projects/industries/mining /public water supply agencies for drinking/ domestic water use up to 12.5 cubic metre/day do not mandatorily require the use of recycled/treated sewage for flushing/green belt etc. Installation of piezometers is not mandatory if extraction is below 10 cubic metre per day. No condition for compulsory treatment and recycling of sewage.
Industries abstracting groundwater to the tune of 500 cubic metre/day or more in safe and semi-critical and 200 cubic metre/day or more in critical and over-exploited assessment units do not require a water audit. Those that require a water audit need to get it done through "CII/FICCI/NPC-certified auditors". How can that be a credible exercise?
"Industries except those falling in red and orange categories as per the CPCB (Central Pollution Control Board)" to implement rainwater harvesting. Why should red and orange-category industries be given exemption?
"Existing industries, which have already obtained NOC and implemented recharge measures as specified in the NOC, shall be exempted from paying the water conservation fee (WCF). However, if the industry is going in for expansion, WCF will have to be paid for the additional quantum of groundwater withdrawal as per applicable rates."
Shockingly, there is no impact assessment, no public consultation, monitoring or compliance mechanism for any of the massive groundwater extraction proposals.
On agricultural water use, the guidelines say: "State departments concerned (agriculture/irrigation/water resources) shall be required to undertake suitable demand and supply side measures to ensure sustainability of groundwater sources. An indicative list of demand side measures is given." The CGWA could have provided more detailed and effective measures, including community-governed groundwater regulation. The list given does not even include water-saving methods such as the system of rice intensification or a similar method for other crops. Community-driven regulation could have been recommended for all user classes.
The notification mentions no restrictions, no ban on water use even in overexploited and critical areas, where essentially there is no groundwater available for exploitation. Everyone, including bottled water and soft drink manufacturers, are allowed to extract as much as they want, even from overexploited areas, as long as they pay the WCF. "Other industries" have to pay just one-fifth to one-sixth the WCF compared to packaged drinking water units. These industries clearly include soft drink companies. Mining and infrastructure industries have to pay even lower, up to one-third the WCF compared to "other industries".
Other conditions include a strange one: "Sale of raw/unprocessed/untreated groundwater for commercial use by agencies not having valid NOC from the CGWA is not permitted." This means that if you have a valid NOC, you can sell water to others!
The delegation of powers by the notification does not inspire confidence: "The Central Ground Water Authority has appointed the District Magistrate/District Collector/Sub-Divisional Magistrate of each revenue district and Regional Directors of the CGWB through a public notice as authorised officers, who have been delegated the power to monitor compliance, check violations and seal illegal wells, launch prosecution against offenders etc., including grievance redressal related to groundwater."
These agencies have not succeeded in achieving regulation of groundwater. How is that going to change? What is required is a dedicated groundwater regulation mechanism at the aquifer/gram sabha/block/district level where at least 50 per cent of the members are not associated with the government.
We hope the NGT keeps all these factors in mind when it gives a detailed order on January 11, as promised on December 18.
The author is associated with New Delhi-based South Asia Network on Dams, Rivers and People