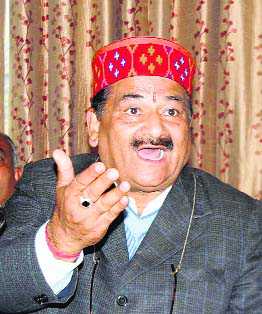 Our Correspondent
KULLU, JULY 31
Kullu MLA Maheshwar Singh, scion of the erstwhile Royal family, said the fate of the Raghunath temple, the chief deity of the Kullu valley, located in the Sultanpur region of Kullu would not be decided by the Chief Minister but by the God and Goddesses of the valley.
Addressing mediapersons during a religious ceremony at the temple today, he dared the Chief Minister to erect a new temple. "Then the government would come to know which temple is recognized by the deities of the Kullu valley", he stated, adding that the temple was located on his premises and he had already approached the High Court against the takeover of the temple.
After the notification by the government on the takeover of the temple on July 25, the Kullu Deputy Commissioner on July 27 had given a seven-day time to Maheshwar Singh to hand over the records of the temple.
Maheshwar stated that his younger brother Ayurveda and Cooperative Minister Karan Singh should go through the ancestral documents before making any claims on the Raghunath temple. He said Karan Singh had been given more than his due share as per the Will of their parents.
Recently, Karan Singh had stated that he had no role to play in the decision of the Cabinet on July 25 regarding the takeover of the Raghunath temple by the state government and though he had share in the temple, he was not presently member of any committee of the temple.
He, however, had stated that the temple would be taken over under the Himachal Pradesh Public Religious Institutions and Charitable Endowments Act, 1984, for better administration, protection and preservation of properties of the temple.
He had also said Maheshwar would remain the "chharibardar" (chief caretaker) of the temple and all religious activities would be carried out as earlier.
It was following the theft of the antique idols of Lord Raghunath and Goddess Sita along with two other idols in December 2014 that concerns were expressed over the safety and security of the priceless idols and other valuables.
The idols stolen by a Nepalese were later recovered from Bajaura in Kullu on the basis of inputs given by the thief when he was apprehended in Nepal.
Prior to this, thieves had decamped with ornaments from the temple. However, the formation of the temple trust now was also being speculated as a political development as Maheshwar, who is also chief of Himachal Lokhit Party, had been supporting the Congress but had recently shown inclination towards returning to the BJP.