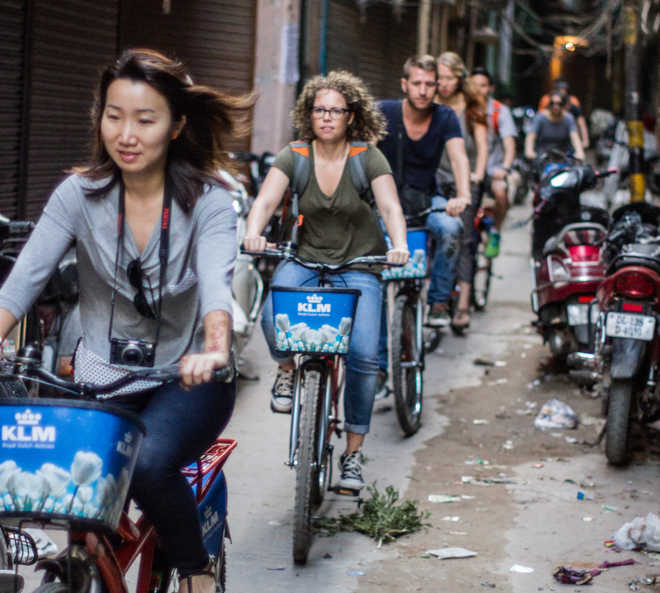 Swati Rai
One fine morning, while working as a South Asia correspondent for De Telegraaf, Jack Leenaars started discovering the back lanes of Delhi on his cycle. And he realised it was a different world on two wheels. Markets readying for customers from far and wide, life beginning before the crack of dawn, historic buildings not yet part of the commotion on the tiny lanes… there was a sense of déjà vu and Jack wondered why he should witness this magic alone. It is out of this one morning that his project DelhiByCycle was born in 2009.
From a couple of participants on the Dutchman's first expeditions, the cycling tours are now a hit. "My lust for exploring, passion for cycling and deep connection with the amazing city of Delhi in all its cultural diversity and historical background resulted in the forming of DBC. I loved to be an explorer, adventurer, researcher and person with deep interest in other people's lives and motivations. In setting up DBC, I could continue all this with the addition of cycling," he gushes.
At DBC, biking enthusiasts get to savour five tours around Delhi, each with a distinct flavour. Titled Shah Jahan, Yamuna, Raj, Haveli and Nizamuddin, the tours help the tourists get a taste of real Delhi and offer Delhiites a fresh perspective on their own city too. "The Shah Jahan is our classic Old Delhi tour and the most popular one as well. This is not saying that the other four tours we offer are less great cycling experiences!" says Jack.
A day with DBC starts at 6.30am to avoid the traffic and soaring temperatures. Jack's clients include resident Delhiities, expats, corporate groups, high-end and well-heeled tourists, back packers, students, professionals and business people. Jack's endeavour is to take out the tourists from their daily comfort zone and immerse them into local Delhi street life on a bicycle. 'It's an intense and beautiful experience, where bonding develops amongst the tour guide, participants and the group itself. So many have told me they made memories for life!" gushes Jack.
DBC bikers traverse through the by-lanes and back alleys of Delhi — from Darya Ganj to the snazzy roads of Connaught Circus — catering to the tastes of all. It is even open to children perched on baby seats on bikes!
His team is as enthusiastic as him and comes from diverse backgrounds. "I spend a lot of time selecting the right kind of people to fit our profile. They must have a connect with the city and must be in love with it!" Talking of his vision he says, "We want to contribute green mobility, change mindsets and spread awareness about the greatness of Delhi in all its aspects as also the challenges the city is facing. We hope we will be able to leave a positive footprint for current Delhites and future generations."
Jack, who came to Delhi in 2005 and lived there for several years, has now shifted base to Goa to explore new business opportunities. Jack commutes between Delhi and Goa to run DBC. He also works as a consultant to set up cycle projects like DBC in other cities. He has designed one for Lucknow, the capital of Uttar Pradesh, in partnership with UP Tourism Department.
With a strong familial support that helped Jack set up a successful business with a strong social impact, he dreams of a pan-India presence of this initiative. "Nothing is static, life is dynamic. Never try to control things and people, respect them and allow them to grow and flower, including yourself. Have a vision and be clear on what you want and don't want. And most important, everything is possible in life," Jack smiles. So next time you want a ride, just hop on!
Top Stories