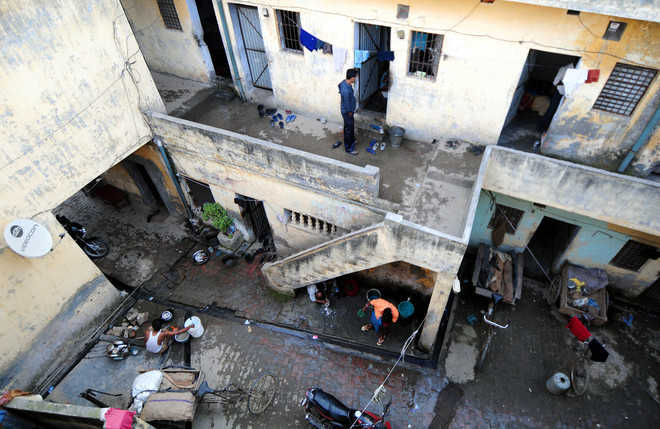 Minna Zutshi
Tribune News Service
Ludhiana, August 4
Despite the tall claims of the Health Department, there have hardly been any awareness campaigns on dengue and monsoon-related illnesses in the city.
'Vehras' in most parts of the city remain neglected in terms of the reach of health services and awareness campaigns.
As city residents put it, the authorities wake up when the alarm bells ring, otherwise they conveniently slumber.
"Every year, the department wakes up when the problem gets out of control. In fact, the authorities are quick to do the damage control once the damage is done. The moment dengue cases start pouring in, advisories are issued and teams of experts start visiting vulnerable areas," says Geeta, a young professional.
'Vehras' in the city, with their pathetic lack of basic facilities, present a miserable picture. To make matters worse, the accessibility of the vehra residents to healthcare facilities remains poor. This, combined with the vehra residents' low awareness on health issues and hygiene practices, compounds the problem.
A resident of a 'vehra' in a locality near Aggar Nagar, when asked if she was aware that dengue mosquitoes breed in clean stagnant water, replied: "I have no idea that dengue mosquitoes breed in clean water. In our vehra, water often accumulates near our room whenever it rains." She said so far no one from any government department had come to disseminate information about the prevention of dengue and other diseases.
"My neighbour is suffering from fever, cough and cold. And she's been off work for past four days."
Last year, one of her neighbours (living in the adjoining room in the 'vehra') was down with dengue and it took him days together to shrug off his illness, she adds.
Does she know that in diseases such as diarrhoea, it's important to stay hydrated? The look on her face is as if she has heard some fantastic tale.
"We are poor people, working at other people's houses. What do we know about these things? And who will tell us?"