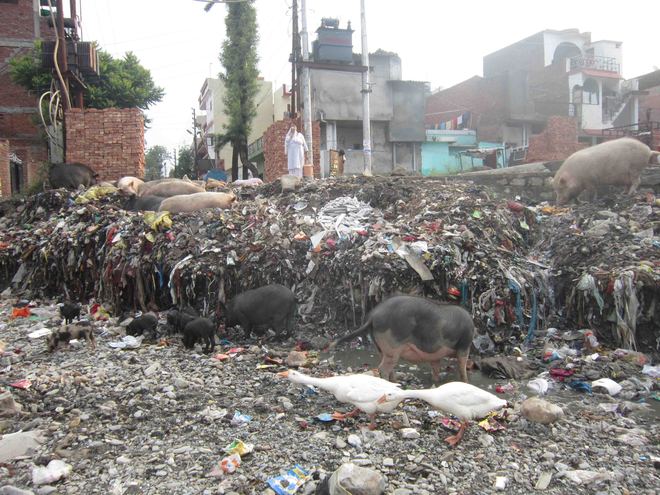 Tribune News Service
Dehradun, July 7
Students' NGO Making a Difference by Being the Difference (MAD) has come out with a status report on the Rispana and Bindal rivers.
MAD's founder president Abhijay Negi released the report and said for the past three years, MAD had been working for the revival of the Bindal and Rispana rivers that were on the verge of extinction.
Negi said the Dehradun district authorities had recently ordered cleaning of the two rivers and MAD volunteers conducted a reality check in six stretches. The members, all aged between 15 to 23 years, trekked a distance of 40 km of the two rivers and recorded their findings.
The report has revealed large-scale encroachments, dumping of garbage, filth and rampant encroachments in the two rivers. Domestic waste, effluent plastic, dead animals and human excreta were found in the Bindal.
"Encroachments were not just on the banks of the Bindal river but right at the riverbed which posed serious environment hazard and was a threat to slum dwellers in the eventuality of heavy rain," Negi said.
"More and more waste was being routinely dumped in the Bindal stream so much so that the piles of waste had almost become a part of the embankment," Negi added.
Same has been the case with the Rispana river. Drains are directly feeding the Rispana with toxic supplies. "A lot of construction is taking place along the banks of the Rispana river. Further like Bindal, constant pollution, dumping of plastic and garbage is taking place in here," Negi added.
He said they would submit their report to Dehradun District Magistrate Ravinath Raman, Dehradun Mayor Vinod Chamoli and other civic authorities hoping that they would take a strict and prompt action.
Top News
Both resign in what appeared to be a choreographed release o...
Suburban train services affected on the Main and Harbour cor...
Anirudh Tewari posted as Director General, Mahatma Gandhi St...
Odisha tops overall while Himachal secures second place in s...
5 AAP legislators were inducted as ministers on Monday