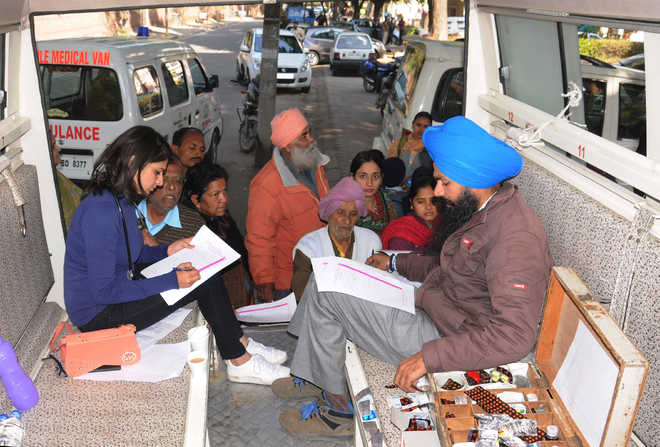 Tribune News Service
Chandigarh, January 20
At least 214 residents of Sector 18 were taken ill due to water contamination. According to health officials, the number could be higher.
The UT Health Department said 1,100 households were surveyed in which 104 residents reported symptoms of diarrhoea while 110 complained of abdominal discomfort. However, the number of patients was likely to be higher as residents might have approached hospitals or health care professionals individually, said officials of the Health Department. The number of patients could also rise as the department would conduct more surveys tomorrow.
Dr Rakesh Kashyap, Director, Health Services, said a health team, comprising 30 field workers, including an epidemiologist, Dr Inderpal Singh, conducted surveys in Sector 18 today. The team also collected 16 water samples from the households surveyed for the indicator test. He added that a mobile van of the department was also stationed at Sector 18-C with two doctors and 15 health workers.
"This is a case of mild diarrhoeal outbreak. There were no cases of severe diarrhoea or dehydration. However, 104 residents who were referred to the mobile van by the team of field health workers had symptoms of mild to moderate diarrhoea. The other 110 complained of abdominal discomfort," said Dr Inderpal.
He said all those who reported at the mobile van were given treatment, which included ORS, antibiotics and zinc tablets. He said the report of the water samples would arrive tomorrow morning. "Our team will continue to conduct surveys tomorrow to locate more patients, if any," said Dr Inderpal.
He said Sector 18 was an upper-class urban area and most of the residents were well educated. "Most of them have RO systems and water purifiers installed at their homes, which ensure clean and safe drinking water," he remarked.
The health teams also conducted awareness activities, including public service announcements in the area. A mobile health van of the Bharat Vikas Parishad was also stationed at Sector 18.
Meanwhile, Prabha, a resident of Sector 18, said she and three members in her family had been experiencing stomach ache, diarrhoea-like symptoms and vomiting since two days and had been unable to sleep. "Initially, we thought it was due to extreme cold but when we discussed the symptoms with my sister-in-law, who is a doctor in Ropar, she told us to immediately visit a doctor as it could be diarrhoea," she said.
Another resident, Rashim Syal, said her husband and father-in-law were suffering from diarrhoea-like symptoms since January 18.