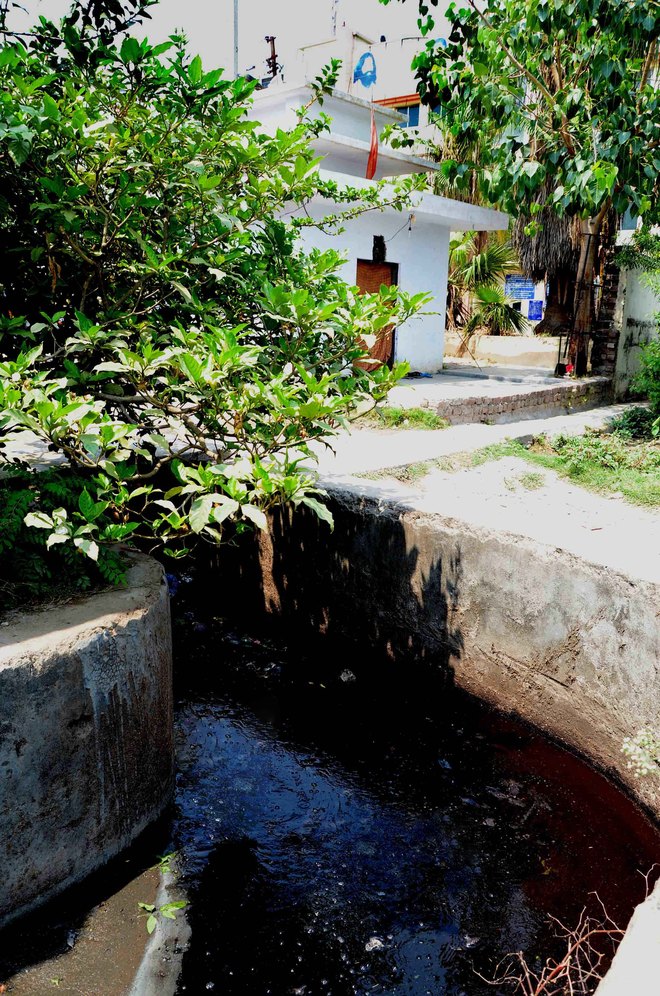 Tribune News Service
Haridwar, November 1
Effluents from the factory at Divya Pharmacy, belonging to yoga Guru Ramdev, at the Indira industrial estate in Haridwar city, continue to flow directly into the Ganga, near Rishikul. Uttarakhand Tribune is highlighting for the third time this balatant polluting of the holy river by an organisation belonging to Swami Ramdev.
District Magistrate HS Chug, who has taken charge in Haridwar recently, said he would look into the matter and direct officials concerned to collect information about the ashrams, dharamshalas and industries, which were directly discharging sewage and effluents into the Ganga.
National Green Tribunal (NGT) appointed Local Court Commissioner Sharik Zaidi said the administrative and civic authorities dealing with Ganga pollution control and management in Haridwar seem to be passing the buck, hampering and delaying the Ganga cleaning process.
Zaidi said nullahs and industrial effluents directly flowing into the Ganga without being treated in Haridwar was a major cause for concern. The saint community needs to come forward and give a good message to society as well as local traders, hoteliers and industrialists, added Zaidi.
Haridwar MP Ramesh Pokhriyal Nishank said during his tenure as Chief Minister of Uttarakhand, he had initiated the Swachch Ganga initiative to ensure cleanliness in the sacred river in the state. However, he evaded directly replying to the question on Divya Pharmacy, near Rishkul, pouring effluents into the Ganga. Nishank said Swami Ramdev was doing a commendable job in the field of yoga, ayurveda and generating patriotic feelings among masses. He said as Divya Pharmacy is situated in the Indira Industrial Estate, where there are numerous other industries, he could not comment on it alone. "Ramdev has been quite concerned about pollution in the Ganga and has been involved in the clean Ganga drive. Hence, one can't question his commitment towards the holy river and his integrity," he added.
Top Stories