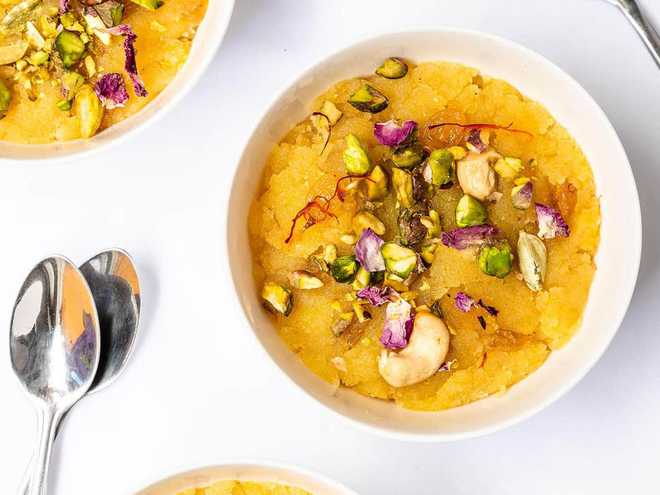 Indian desserts can often be too rich and sweet for many people. But this is an ideal end to a festive meal as it is light and — unlike many other desserts — soaked in neither cream nor milk. Nutmeg is best grated yourself from the whole spice, as shop-bought ground nutmeg is a shadow of the whole spice.
Method
In a bowl, infuse the saffron strands in ½tsp of tepid water. Set aside.
Place the cassia bark and cloves in a pan and cover with 500ml cold water. Bring to a boil over a medium-high heat. Lower the heat, add the sugar to the pan and cook, stirring until all the sugar crystals have dissolved.
In a large non-stick karahi, wok or frying pan, heat the melted ghee or butter over a low-medium heat. Add the raisins and stir, then remove them with a slotted spoon just before they expand and burst. Add the raisins to the pan with the sugar syrup.
Now add the semolina flour to the pan with the ghee or butter, together with the grated nutmeg and crushed cardamom seeds. Gently stir until the grains of the semolina darken and smell toasted (approximately 10 mins). Keep the heat low as you do not want to burn the semolina grains. Remove the pan from the heat and slowly add the sugar syrup, stirring constantly. The contents will sputter initially but then calm down.
Put the pan back on the heat and stir to break up any lumps. Keep the pan on the heat until all the sugar syrup has been absorbed. Towards the end of the cooking, add the chopped cashew nuts and saffron-infused liquid.
Once the halwa is cool enough to handle, roll it into ladoos, or balls. Alternatively, you can serve the halwa as it is, warmed and placed in a serving bowl, and let your guests serve themselves. To serve, scatter over a few edible rose petals to add a festive flourish to this dish.
Ingredients (Serves 6-8)
Saffron strands ¼tsp
Cassia bark 1 piece, 2.5cm long
Whole cloves 2
Granulated sugar 150g
Melted ghee or unsalted butter 125ml
Raisins (golden or green) 25g
Fine semolina flour 200g
Nutmeg (freshly grated) ½tsp
Cardamom seeds ½tsp (freshly crushed)
Cashewnuts 40g (chopped)
A few edible rose petals, to garnish (optional)
(Recipe by Asma Khan, writer, chef and founder of Darjeeling Express) — The Independent
Top Stories