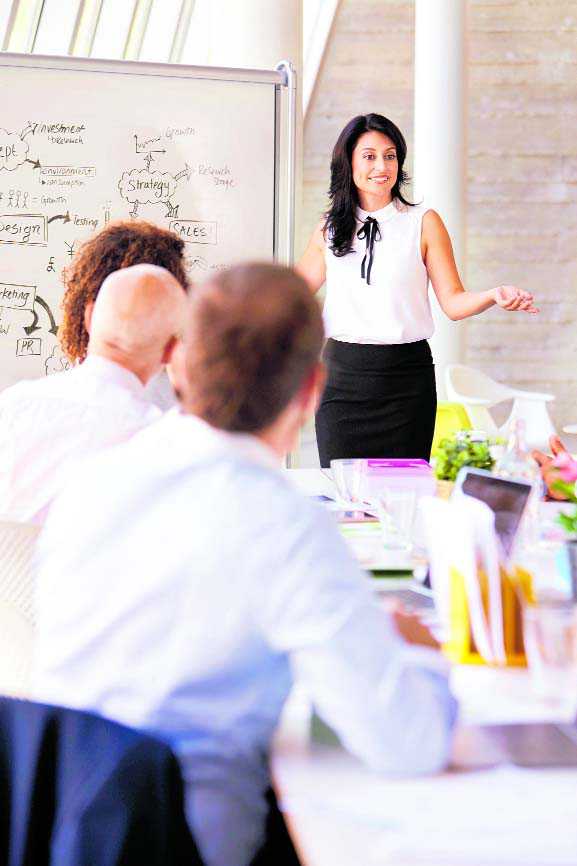 Sharmila Chand
HR heads are constantly thinking of innovative ideas and best practices to retain staff as getting and retaining good manpower is a growing challenge.
Management tries to lure them in various ways. Some try to break the work monotony by organising fun and non-work activities. Watch a movie together, start a book club in the office, have potluck once a month, family picnic, etc — activities that help employees divert their mind from work stress. More and more Indian companies are stepping into this terrain and are making their employees more comfortable and connected.
'InterraIT Toastmasters Club', is one such initiative launched by Interra Information Technologies. It is meant to give people a platform to express themselves, socialise and scale up their communication and leadership skills in a completely non-threatening environment. "Toastmasters also connect them to their peers from other firms and exchange notes and ideas, which works out to the benefit of both concerned," says Asoke K Laha, MD and CEO, Interra Information Technologies. "We started the club in 2006 and it is the first corporate toastmasters club in the NCR area, it has been hugely successful and has earned major distinctions at national and divisional levels."
Anuj Sawhney, Managing Director of Swiss Military, advocates 'Employee Development' as an important tool. He explains, "This could be training to learn a new job skill. Shuffle employees so that they don't get bored performing their task."
At Infosys, technology is used to a large extent by CXOs to communicate with employees. Being at the forefront in terms of leading technology providers, technology goes a long way, especially in disseminating information and connecting with employees in a timely and relevant manner. "Yammer, our internal social networking platform, is a space that has been leveraged by CXOs in connecting with employees. Leaders put up posts on Yammer that are contextual to happenings in the company, their business, etc. Employees also talk to leaders on Yammer to get answers to queries and clarifications regarding various aspects of employee experience. This is a great channel as it is real-time, available on smartphones and places a face to each individual", says Richard Lobo, SVP & Head HR, Infosys.
Foodcloud.in, an innovative startup whose platform is built on Open Source with the aim of connecting authentic home cooked chefs to clients sends samples of dishes of newly registered chefs to an employee's house. These exotic dishes and cuisines are sent for free for an employee to taste and have a unique kind of experience. For example, when the Thai chef joined FoodCloud, the samples of various veg and non-veg dishes of tofu, prawns and fish were sent to employee's residence. Vedant Kanoi, Founder of FoodCloud says it has helped them build a good camaraderie amongst the team members.
ZS India, a global consulting firm believes that the driving force of their organisation is their workforce and hence engaging them and retaining talent are key to running a successful business. Keeping this in mind they have started a few initiatives which help the employees to ensure they don't miss out on life in the race for making a career. "Two initiatives "ME Time" and "Work-from-Home" are intended to help the people lead a balanced lifestyle — one in which they can pursue any personal passion while still receiving an accelerated learning experience at work. Employees have pursued their passion while working full time and even won accolades in those fields, with the support and encouragement from ZS. A talented ZSer, Technology Analyst Bhavya Bansal (Pune), is an example of an Associate who finds balance between work and his passion for filmmaking. In October, Bhavya and a team of fellow filmmakers were chosen from more than 1,750 teams as a winner at the YES FOUNDATION's Yes! i am the CHANGE National Film Festival. At the Mumbai event, teams had 101 hours to produce a post-processed, theme-based documentary. Bhavya and his team won an internship opportunity with Guneet Monga, a renowned Indian film producer and CEO at Anurag Kashyap Films Pvt. Ltd. Bhavya Bansal says, "I have been with ZS for a year, and I volunteer to work and teach in the slums. I worked behind the camera at college in Delhi, where I was born, and that was when I worked on a documentary based on a woman who works on the bank of Yamuna River, which is a cremation ground. Since then, I've been interested in filmmaking.
Yes Foundation focuses on stimulating entrepreneurship and innovative use of media initiatives for social transformation to enable India's inclusive growth and development and the film festival gave me the opportunity to showcase my talent. The theme of our documentary was 'Everyday Heroes' based on which we came up with the movie Temple of Humanity spanning the life of Ravi Kalra, Founder of Earth Saviours Foundation, who has made it his mission to provide shelter to homeless people of Delhi since 2008. With ME Time, I'm able to have an evening to myself, which I've used for filmmaking over the past few months."
At Directi, the cornerstone of the organisation is: Values, Communication, Growth and Culture to help the management in retaining top talent. Margaret D'Souza, Head HR, Directi (Flock - an enterprise messaging and collaboration app; a part of Directi group), says the foundation for retention begins at the time of recruitment itself. Preferring a 'stay interview' over an 'exit interview', the company came up with an initiative called 'Pulse'. 'Pulse' sessions entail a one-on-one interaction of HR with a small group of people with similar job profiles and seniority levels. Timely running of employee engagement surveys ensure that issues at every level are addressed in the nick of time. Additionally, at bi-annual 'Town halls' and weekly TGIF meetings, profound discussions about our company, products, strategy and future are held with some beers at the table.
"Our culture is our greatest strength and we take immense pains to hire only the right candidates that are a 100% fit for our culture. This is also the reason why we don't have a probation period for any new joinee. We hire the best, and we do our best to keep them," says D'Souza.
Top News
Gurpatwant Pannu, head of the banned terror outfit Sikhs For...
NIA had announces Rs 10 lakh reward on Harpreet Singh alias ...
2 Akali leaders distance themselves from the Unity and Coord...
The hexacopter was recovered in a joint operation by the Pun...