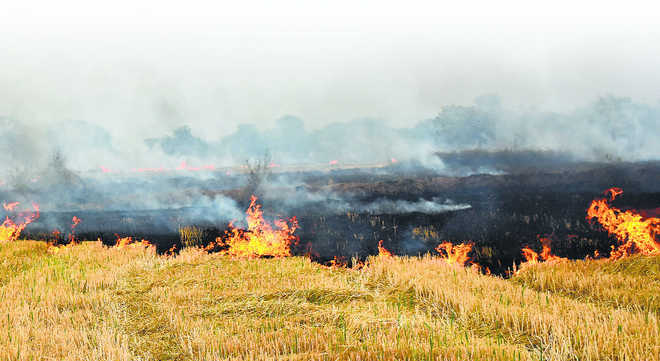 PUNJAB and Haryana have made progress in creating awareness regarding stubble burning. Farmers know that burning crop residue is not good for the environment or the soil. High-decibel awareness campaigns on buses, posters, the media, jingles on FM stations, involvement of NGOs, development agencies, schools, pollution control boards and the respective departments of agriculture — all have played their role in creating awareness about the menace.
However, the incidence of crop residue burning has gone up, even as crores of rupees have been pumped by the state governments into the subsidy mechanism. Those aware of ground realities know that farmers aren't the bad guys bent on environmental degradation. The farmer community understands what is good for it. Farmers need a bouquet of solutions instead of one particular technology being forced on them.
Unfortunately, the stubble management campaign has been reduced to a 'Happy Seeder campaign'. The correct step would have been to leave it to the farmers to choose the technology or solution they wish to adopt, with the overall thrust on 'no burning'. There are multiple solutions available and burning will stop gradually. Farmers face confusion about the solutions; most solutions they know of are not viable for them as the landholdings are very small.
Farmers face problems vis-à-vis Happy Seeders. Non-availability of SMS-fitted harvester combines is another challenge. It is illegal to run a combine without the SMS (straw management system). Combine owners say the SMS attachment is too expensive. It increases the cost of harvesting, which they are unable to pass on to users. It is not possible to fit the SMS on tractor-mounted harvesters. A large percentage of harvesters are tractor-mounted in Punjab and Haryana. The replacement cost of such a large number of tractors will run into crores of rupees.
Some farmers are hesitant to adopt the turbo Happy Seeder. They feel they will have to change their age-old agronomic practices, include the timing of the last irrigation, the method of urea application and the timing of urea application. With such small landholdings, they cannot risk a lower yield.
The government must understand that unlearning is very difficult for farmers. Hence, the policy should be flexible. The state should promote Happy Seeders wherein the SMS is not required and anchored straw is not an issue.
Adoption and promotion of the PAU (Punjab Agricultural University) Happy Seeder is good for sowing without anchored stubble. In this case, the farmer can use a normal cutter spreader followed by the PAU Happy Seeder. Again, the final decision should be left to the farmer.
Ploughing of crop residue into the soil is possible with the Reversible Mould Board (MB) plough.
Straw bales are used by biomass-based power plants, paper mills and cardboard factories. The straw management machines of use here are slashers, rakes, swathers and balers. Farmers do not have sufficient numbers of rakes and balers.
The biochar way
A good option for straw management is biochar, which farmers can exercise in their fields. The process needs very little space and investment. Application of 2 tonnes of biochar per acre to wheat or rice reduces urea consumption by one-third, produces 10 per cent more green yield and improves soil health significantly after three years. Application of biochar increases the retention of nutrients like phosphorous and nitrogen in the soil, aids in decreasing the leaching of nutrients of soil into the groundwater and helps in saving nutrients from erosion due to the surface water flow. Biochar helps to reduce environmental pollution by 60-70 per cent.
Dr R K Gupta, senior soil chemist at PAU, Ludhiana, says biochar can be produced by burning rice straw in a kiln, in the absence of oxygen. Appropriate measures for the kiln are 10 ft in diameter and 14-ft high. This kiln should be able to accommodate 12 quintals of rice straw and convert it into 6.5 quintals of biochar in 10-12 hours.
There are in situ and ex situ options to deal with crop residue. A good ex-situ option is the use of rice straw as cattle fodder. The nutritive value of rice and wheat straw are almost identical. But cattle owners of Punjab, Haryana and Uttar Pradesh prefer wheat straw over rice straw. Straw as cattle fodder is used only as a source of roughage for gut-filing as it has very low nutritive value.
The key to improving the use of crop residue as cattle fodder is to overcome their inherent barriers to rumen microbial fermentation. In the case of rice straw, the important factors that restrict bacterial degradation in the rumen are its high contents of silica and lignin, and its low levels of nitrogen, vitamins and minerals. To improve the feeding value of rice straw, the straw can be treated with different means and methods. Other required nutrients can be supplied to the animal's ration.
Making the most of rice straw
Dr RK Dhuria of RAJUVAS (Rajasthan University of Veterinary & Animal Sciences), Bikaner, has studied the nutritive value of rice straw, and the ways in which it can be enhanced. Rice straw is rich in polysaccharides and has a high lignin and silica content, limiting voluntary intake and reducing degradability by ruminal microorganisms. Rice straw contains more oxalates, which also reduces the absorption of calcium in the body.
Rice straw can also be treated with urea, which releases ammonia after dissolving in water. For practical use by farmers, urea is safer than anhydrous or aqueous ammonia. Urea treatment also provides a source of nitrogen (crude protein) in which rice straw is deficient. Rice varieties with a low degradability respond better to urea treatment than higher quality straw, increasing the in vitro dry matter degradability from 45 to 55-62 per cent. Urea treatment may be most suitable for small-scale farmers to improve the quality of straw, particularly varieties showing a low degradability.
Rice straw is low in nitrogen and difficult to degrade. The supplementation of a ration of rice straw with a protein source and a more easily accessible energy source will improve the performance and production of animals. Supplementation of a ration of rice straw with protein, energy and/or minerals may optimise rumen function. This shall also maximise the utilisation of rice straw and increase its intake.
Feed block preparation
A complete feed block is the system of feeding all ingredients, including roughage, processed and mixed uniformly, made available to the animals without the need for any previous preparation. The concept of readymade, densified complete feeds with fibrous crop residues is a good way to increase the intake and improve the nutrients' utilisation.
Silage is the product formed when grass or other green fodder with sufficient moisture content is stored anaerobically, typically in the silo after wilting, to prevent spoilage by aerobic microorganism. The fundamental principles of silage process are maintenance of anaerobic conditions throughout the ensiling and rapid decline in pH value by lactic acid bacteria.
Raising buffalo calves for meat
India has been the largest buffalo meat exporter in the world. The production of buffalo meat is 1.7 million tonnes, which is about 95 per cent of the total meat exported from India. The demand for buffalo meat is high in most of the Asian and European countries as it is high in protein, low in fat and cholesterol content with fewer calories in comparison to other red meats. Dr Manju Wadhwa of Guru Angad Dev Veterinary and Animal Sciences University (GADVASU), Ludhiana, says that paddy straw can be used as a basal ration for buffalo fattening. The urea-treated paddy straw-based complete feed can cause 500-gm average daily weight gain in buffaloes.
Rice straw pellets
Pellets of rice straw with or without other feed ingredients have sufficient density for effective transportation. It also leads to easier handling of rice straw using existing transportation infrastructure and storage practices. The nutrient-rich pellets fill the critical missing links in the biomass value and supply chain. This affordable technology is available with GADVASU and farmers can be easily trained to use this instead of burning.
Paddy straw is ideal for use as bedding for dairy animals. The compositing of straw with animal urine and dung produces high-quality fertiliser. A study conducted at the GADVASU dairy farm revealed that a bedding of 30-cm thickness during winter increased the milk yield by 17.1 per cent during the 60-day study. The increase with 20-cm-thick bedding was 5.3 per cent. The body weight gain was 0.75 per cent in 30-cm bedding. Animals with no bedding lost 1.27 per cent weight during the period.
A study of the rice production of various states shows that the crop to residue/stubble ratio is 1-1.5 times. States in the South and the East use rice crop residue as dry cattle feed, but we in Punjab and Haryana set it ablaze.
Some other low-cost solutions are easily available. There are more than 1,000 registered gaushalas in Punjab and Haryana. We also have a large number of unregistered gaushalas and also many government-sponsored cattle pools. All of them are managed by social organisations and not-for-profit groups. Most of these organisations face financial constraints and are dependent on charity. If they are trained to use rice straw as dry fodder or with urea treatment or as silage, gaushalas will be able to bring down their expenses considerably. Huge quantities of rice straw will be consumed without having to spend on transportation costs. Farmers are aware that Gujjars feed their milch animals with dry fodder made out of rice straw with no drop in milk production.
The government should extend benefits to the manufacturers using rice straw for end products like cardboard, packaging material, paper and tableware.
The example of the laser land leveller is apt here. All machines of conservation agriculture portfolio were launched around the same time. Laser land leveller was four times more expansive than a normal wheeled leveller. Farmers adopted this technology within a year and without any subsidy support because of the immense benefits it offered. They saw that the cost-benefit equation was very favourable and easy to understand.
The government should not force a single technology or a single solution upon the farmers. If some farmers want to use the Happy Seeder but no SMS, or wheat sowing with Happy Seeder but no anchored stubble, they should be given solutions accordingly.
Government subsidies and intervention prove to be counter-productive. They jack up the prices of machines, as has happened in the case of the Happy Seeder or all the farm machines approved for subsidy.
Solutions to ensure zero stubble burning will work if the government fulfils its role of an enabler. Each solution has its own pros and cons. Farmers need handholding to efficiently adopt a technology. Each new machine or technology has its own challenges, which causes anxiety among farmers. They should be offered the complete range of solutions available to deal with crop residue. It is essential for the government to improve extension services to address these issues.
In order to encourage zero stubble burning, farmers can be offered a non-burning bonus. The government can help farmers through direct benefit transfer for crop residue management. This budget could be equal to the budget kept for so-called subsidised machines. This will be the true hand-holding of farmers, and a cut in the inflated margins of Happy Seeder manufacturers.
Let economic forces and a free marketplace decide the prices of farm machines. It is the carrot which shall lead to the adoption of correct practices, not the stick.
Unhappy scenario of Happy Seeder
There is no doubt that in situ and conservation-based solutions are better options. But farmers have reservations. For generations, farmers have been trained to sow on a clean seed bed. It was commonly said in Punjabi, 'Rajj ke vaah te rajj ke khaa' (till much and eat much). Suddenly, we are asking them to unlearn and follow zero tillage. Some farmers do not like to sow on a trashy seed bed, particularly with anchored straw.
Due to the subsidy mechanism, the price of the Happy Seeder has shot up. It costs Rs 1.5-1.7 lakh. The government is offering 50 per cent subsidy to individual farmers to purchase it. So, the farmer should invest about Rs 80,000 in the Happy Seeder. But the machine will be used only for a few hours in the whole year by a farmer, considering the small landholdings, after paddy has been harvested and he needs to plant wheat. The hard-earned capital of the poor farmer is locked up in a machine. After the government announced the subsidy, the cost of the Happy Seeder rose to Rs 1.7 lakh. Is this a well-oiled mechanism to support manufacturers? If it is not, the government must get earnest about the resource-sharing model.
The 'pay for use' model can be promoted at custom-hiring centres (CHC). At many places, the non-availability of residue management machines with custom-hiring centres is a problem. Nevertheless, shared resources or aggregation is the way forward. With small landholdings, balers, Happy Seeders and ploughs are not affordable for most of the farmers. With the agriculture equipment library or CHCs, farmers do not have to bear fixed mechanisation cost. For a fully owned machine, even the EMI is a fixed cost.
The days of individual ownership of agricultural equipment are over. For custom-hiring centres, help should be extended in the form of soft loans or back-ended subsidy instead of capital subsidy. Admittedly, the government is offering 80 per cent subsidy if a group of farmers buys the Happy Seeder. But the resolution of the problem lies elsewhere.
The author, a farmer and an agri-entrepreneur, is associated with NABARD on crop residue management for farmers