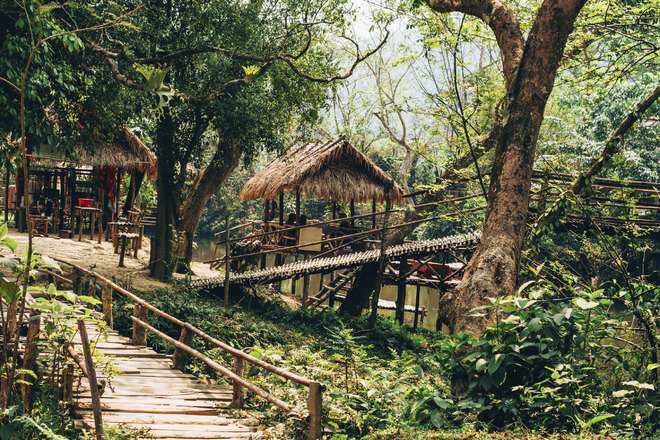 Pratibha Chauhan
Tribune News Service
Shimla, May 10
Having shelved the approved state Eco-Tourism Policy on two previous occasions, it for the third time that the state Cabinet will put its stamp of approval on the once again amended policy, tailored to grant more leverage to the government in awarding the 46 potential sites.
The State Eco-Tourism Policy approved on two previous occasions in January and later in March earlier this year was shelved. It is for the third time in four months that a fresh proposal, recommending amendments, will be placed before the Cabinet when it will meet here tomorrow. It is owing to difference in opinion between the Forest Minister and the concerned secretary that there has been a flip-flop on the issue of the amendments in the state Eco-Tourism Policy.
The policy was reportedly shelved as Forest Minister Thakur Singh Bharmouri was keen that the 46 new tourism sites identified by the department could be given out not on the basis of the highest lease amount as is the present policy but by a government committee headed by the local Sub Divisional Magistrate (SDM).
There is also no clarity whether the mandatory provision of seeking approval from the Union Ministry of Environment and Forest for leasing out a forest area for a non-forest activity will be obtained by the state government or the private player who is allotted the site. There has been dilly-dallying on this issue as there was conflicting opinion on government first seeking nod from Centre and then leasing out the property.
There is a lot of potential for eco-tourism in the state and the State Government is keen that its full potential is tapped. The Forest Department has a separate eco-tourism wing which promotes tourism-related activities by leasing out sites as well as running camping sites on its own.
The Himachal Government had for the first time invited bids for leasing out 10 eco-tourism sites in 2009 under the private public partnership (PPP) mode. However out of the 10 leased out sites only five became operational. Later in January 2014, the lease of these sites was renewed for a period of five year till 2019.
The five sites allotted earlier include Ala Fort Rest House, Dalhousie and Shoghi Camping Site given to Tarangan Developers Pvt Ltd, Barog Camp Sites, Chewa Camping site near Barog and Moti Kunah Hill Top Camping site. The lease amount of these five sites which was Rs 27.90 lakh in 2009 had been enhanced to Rs 98.75 lakh when it was renewed in 2014.
Top News
AICC observers dub 92 MLAs' meet as 'indiscipline' | Sonia m...
Says R'sthan crisis all about dynastic politics
Won't make Article 370 a poll issue, he says