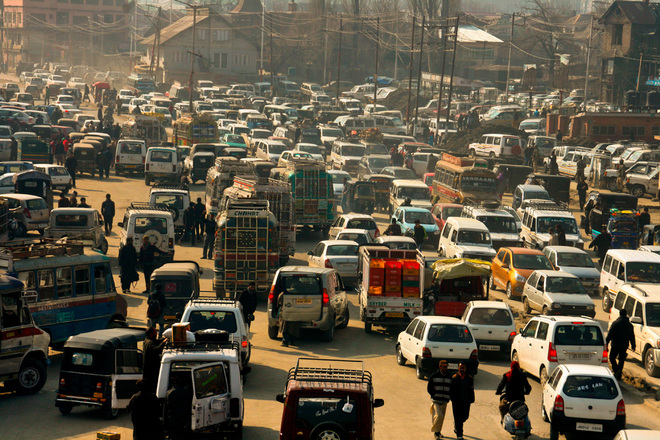 Tribune News Service
Srinagar, April 19
The Departments of Public Works, Traffic, Srinagar Municipal Corporation (SMC), Srinagar Development Authority (SDA) and the Town Planning Organisation, Kashmir, have been directed to come out with a traffic management plan within two days by Public Works Minister Altaf Bukhari.
The minister while convening a meeting on Saturday underlined the need for initiating tangible measures to streamline the traffic management and road safety in Srinagar city. He also called for effective monitoring and supervision by the authorities concerned to ensure hassle-free travel by commuters.
The minister directed the officers to conduct a comprehensive survey of the city and come up with tangible measures for better traffic management and regulation in the summer capital.
He said to streamline traffic flow some of the routes passing through the city centre might be declared one way for vehicular movement.
The minister said in wake of the growing population and ever increasing flow of vehicular traffic, responsibilities of traffic police have doubled and the department needs to come up to the demands of time. He directed the Kashmir IGP to extend all help to the Traffic Department for better traffic management in the city.
"Frequent traffic snarls at different junctions across the city give a tough time to the commuters. There is a dire need for improvement in traffic management with the use of latest equipment and gadgets," said the minister.
He observed that awareness among road users about road safety and traffic rules needed to be given utmost importance besides seeking cooperation of people in bringing improvement in traffic management and penalising the violators.
Bukhari said all stakeholders need to be taken into confidence in order to achieve desired results. The minister solicited the support of print and electronic media saying the media played a pivotal role in creating traffic management awareness among the people.
Municipal Corporation officers were directed to make roads dust free and remove garbage and debris dumped on roadsides at various localities across the city. "The debris left unattended is creating hurdles in free flow of traffic thus causing immense suffering to people. I appeal to the people to cooperate with the government to make Srinagar one of the beautiful and clean cities across the globe," he added.
The meeting discussed various issues and remedial measures related to improvement in traffic regulations in the state. The meeting was informed that various efforts have been taken to ensure road safety and traffic regulation effectively.
Bukhari asked all departments concerned with the traffic management for coordination with other field agencies in order to facilitate smooth traffic movement throughout the city. The Minister for Public Works said, "The government is aware of the problems faced by the Traffic Department personnel in performing their duties on roads who are exposed to extreme weather conditions."
Top News
Terms UPA 2004-14 period a 'lost decade', hit by scams | Ste...