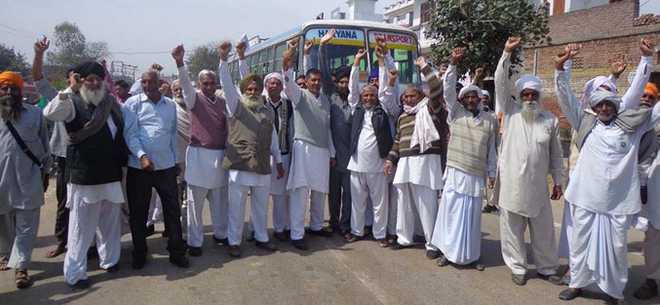 Tribune Reporters
Yamunanagar, March 12
Farmers of Yamunanagar district held a demonstration and blocked national highways at three places in Jagadhri, Yamunanagar and Chhachhrauli demanding implementation of the Swaminathan report in the state.
Led by Harpal Singh Sudhal, BKU general secretary, they assembled at Joriyo Naka at about 10.30 am and marched to the Vishwakarma chowk. They blocked National Highway-73 for two hours.
In Jagadhri, the farmers led by BKU mandal president Babu Ram Gundiana and BKU district president Sanju Gundiana blocked the national highway near Rakshak Vihar for 45 minutes. Later, they reached at Chhachhrauli town and blocked National Highway-73 A.
They threatened to intensify their agitation and would gherao residences of MPs and MLAs on March 13 and March 14, respectively.
Farmers block road
Rohtak: Farmers from nearby villages blocked the Rohtak-Panipat road near Brahmanwas village on the outskirts of Rohtak town to protest the non-implementation of the Swaminathan Commission report and non-fulfilment of other demands.
The protesters also demanded that a special survey of crops damaged in recent untimely rain be conducted and a compensation of Rs 25,000 per acre given for the same.
Meanwhile, Bhiwani farmers today blocked the Delhi-Pilani highway in Morwala village in the Dadri block, demanding withdrawal of the Bill.
'Agitation will continue'
Beri (Jhajjar): Farmers have decided to continue their agitation against the BJP government until the Swaminathan Commission recommendations are implemented. This announcement was made at a farmers' meeting held at the grain market in Beri today. The farmers also organised a protest and disrupted traffic on the Bhagalpur chowk for over an hour. They also submitted a memorandum to the Beri SDM before clearing the road.
Traffic disrupted for 3 hrs
Sonepat: Farmers from the Baroda and Gohana Assembly segments blocked the Rohtak-Gohana-Panipat national highway near Bhainswan Khurd village for over three hours in support of their demands for the implementation of the Swaminatham report and withdrawal of the new land acquisition Bill.
On receiving information, Gohana SDM Dharmendra Singh and DSPs Vinod Kumar and Satish Kumar reached the spot. They pacified the protesters.
Karnal: Members of the BKU today protested at Gharaunda, Chogama and Bhadso villages in the Indri Assembly segment, demanding implementation of the Swaminathan Commission report and withdrawal of the Land Acquisition Bill. They raised slogans against the Haryana Government and threatened to intensify their agitation.
Govt has failed farmers, says BKU leader
Kaithal: BKU activists blocked Kaithal-Karnal road near the district's Teontha village today, demanding implementation of the Swaminathan Commission report.
Later, Pundri tehsildar Balkrishan Dewedi reached the protest spot and accepted a memorandum from the protesters. He assured the farmers to forward their memorandum to Chief Minister Manohar Lal Khattar.
Top News
Abdul Rauf Azhar, born in 1974 in Pakistan, was sanctioned b...
The attack comes days ahead of the celebration of the 75th I...
The former West Bengal governor had recently defeated opposi...
Calls were being made from a foreign sim number, gang was op...