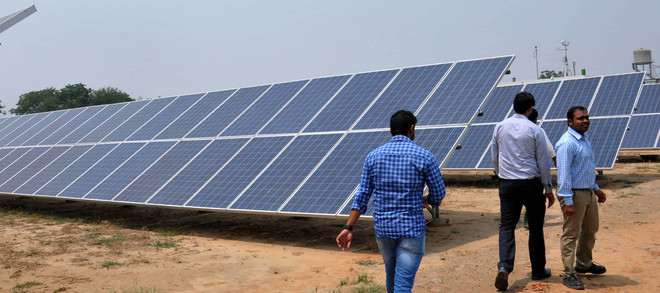 Ruchika M Khanna
Tribune News Service
Chandigarh, July 22
Hit hard by two successive crop failures and the unwillingness of tenant farmers to lease out their agriculture land, farmers of Punjab, especially those who give their land on lease rather than cultivating it themselves, have found a ray of hope in the new solar power revolution that is sweeping across the state.
These farmers have found a perfect opportunity to progress in the state's foray into the renewable energy sector.
A summit to gauge the success and strength of Punjab in solar power — Go Solar Punjab — is being organised on Thursday where leading solar power companies will mark their presence.
With the lease rates down by 10-15 per cent this kharif marketing season — from over Rs 50,000 per acre last year to as low as Rs 38,000 per acre in the Malwa belt — farmers are now showing keen interest in leasing out their land for setting up ground-based solar power projects and getting Rs 40,000-42,000 per acre as lease amount.
The state government's nodal agency — Punjab Energy Development Authority (PEDA) – is acting as the facilitator between the farmers and those setting up the solar power projects.
The state now has 6,000 acres ready for the project developers to take over on lease for 25 years, with landowners assured of no change in the land's girdawri and 5 per cent annual increase in the lease amount.
"We have been inundated with requests from farmers as well as NRIs to take their land on lease. With NRIs forever remaining concerned about their farm lands here being illegally taken over by cultivators, they too have found it a better option to lease their land to a private company, with the state government agency acting as a facilitator," says Bikram Singh Majithia, Minister of New and Renewable Energy Sources.
He said that NRIs are not just leasing out their land, but have invested Rs 655 crore in setting up solar power projects in various parts of Punjab.
In fact, solar power generation is one of the few success stories of the Akali-BJP government in its second term. Buoyed by the success, the state is now coming up with a policy where a single farmer or a farmer group will be able to set up his own solar power plant on his land to generate anything between 1 MW to a maximum of 2.5 MW of solar power.
"The individual farmer or a group of farmers can sign a power purchase agreement with the Punjab State Power Corporation Limited and get an assured income," said Majithia, adding that he hopes to add over 500 MW of solar power through individual farmer or farmer groups who decide to turn project developers.
The government has already floated tenders, inviting bids for generating 500 MW of solar power.
Top News
Union sports minister Anurag Thakur puts out a tweet to this...
Gurnam Singh Charuni and several other union leaders were ar...
Says strength of democratic institutions to figure in discus...
Forecasting agencies say the storm has been undergoing 'rapi...
The shell was found when it got stuck in the tiller of a far...