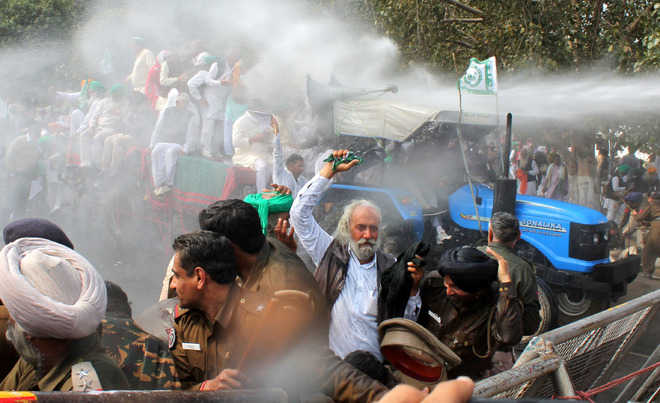 Tribune News Service
Mohali, February 18
Hundreds of farmers, who had gathered here from across Punjab and Haryana, on the call of Bharti Kisan Union (Lakhowal) to protest against the BJP-led NDA Government, of which the SAD is a part at the Centre, for not implementing recommendations of the Swaminathan Commission report and not fulfilling other long-pending demands of the farmers, were stopped from entering Chandigarh.
The Chandigarh police used water canon guns at the Chandigarh-Mohali border to thwart the protest, following which several farmers, including BKU president Ajmer Singh Lakhowal, who is also Punjab Mandi Board Chairman sustained minor injuries and in the melee, their turbans fell down.
Following the protest, the vehicular traffic to and from Chandigarh and Mohali was also disrupted for several hours.
Led by Lakhowal, the protesting peasants had to go to Punjab and Haryana Raj Bhawan in Chandigarh to submit a memorandum to the Punjab and Haryana Governor.
Earlier, after gathering at Gurdwara Amb Sahib in Phase 8 here around 2 pm, the farmers held a protest march against the Union Government for not fulfilling its promises made to them in the run-up to the 2014 general elections.
The demands of the farmers include efficient implementation of Swaminathan Commission report and debt waiver for farmers affected by natural calamities.
As per the decision of the Indian Coordination Committee of Farmers' Movement, the protest march was a part of the nationwide protest by the farmers against the Central Government for its "anti-farmer" policies.
Addressing the agitated farmers during the protest, Lakhowal, said, "One of the major reasons for farmers' suicide was low price value for their crops." Farmers are upset with the Modi government for 'not paying attention' to resolving farmers' issues, he said.
"For the past four decades, farmers have been receiving lesser price for their crops compared to the cost. Because of low prices of agricultural produce, farmers have not only been burdened with huge debt but with family responsibilities also, including children education, health services and other such needs. And unable to fulfill all such needs, farmers are being forced to commit suicide," the BKU chief stated.
According to Lakhowal, due to low prices of wheat crop during the past 25 years, a farmer has to bear a loss of Rs 20,000.
According to a study conducted by the Punjab Farmers' Commission, it was reported that due to low minimum support price of paddy alone, during the past 20 years, farmers have to suffer losses of Rs 40,000 crore.
BKU national spokesperson Ch Rakesh Tikaith said various farmers' organisations had met Prime Minister Narendra Modi recently and requested him to implement the recommendations of the report and protested in Delhi also but the Prime Minister "never paid heed to their demands".
BKU Haryana president Chaudhary Ratan Maan said due to low prices of crops, farmers were implicated in debt but there was not even a single Act or Rule through which they can get rid of it. "For example, there are various Rules for different industries through which they will get rid of huge debts. However, there is no such system for the farming community," he lamented.
Agitating farmers demanded alteration in recently launched crop insurance scheme in which they want plot should be taken as unit for crop insurance and nothing should be charged for crop insurance from farmers whose land is less than five acres.
The protesters said if their demands were not fulfilled, they will intensify their protest and block roads.