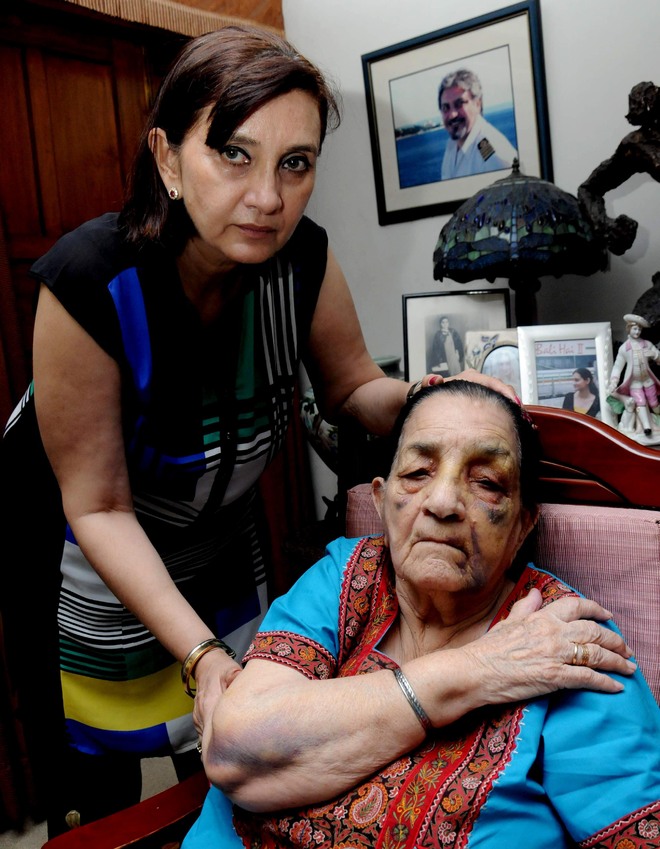 Amit Sharma
Tribune News Service
Chandigarh, September 28
A post on Facebook from the grandson of a 90-year-old woman, a war veteran who was knocked down by a senior Haryana bureaucrat's car, accusing him of being insensitive and rude towards the elderly, has led to a public outrage on the social networking site with over 2,500 users having already shared the post and close to 2,400 liking and commenting on the post.
The woman, Capt Paramjit Kaur Dhanoa (retd), suffered a broken rib, besides a swelling on her head and injuries on her face after she was hit by the car at the gate of Tagore Theatre in Sector 18 on September 25. The bureaucrat's driver was driving the car. The incident has left kin of the elderly woman upset over the bureaucrat's apathy.
The woman's grandson, Gobind Singh Dhanoa, posted his injured grandmother's photo on Facebook, accusing the bureaucrat of rushing inside Tagore Theatre to watch the play, leaving his injured grandmother crying in pain.
The post has led to a public outrage with people posting their comments on the social networking site and expressing resentment against the insensitivity shown by the bureaucrat. The woman's son, Capt IP Dhanoa, a merchant navy officer, said it had shocked him that the bureaucrat, instead of shifting his mother to the hospital, straightaway went inside Tagore Theatre to watch the play. "Although the bureaucrat claims that he offered a glass of water to my mother, I didn't notice that," Captain Dhanoa said.
Gobind said the bureaucrat did not bother to wait. "I want people to share the post to keep the issue alive," he said.