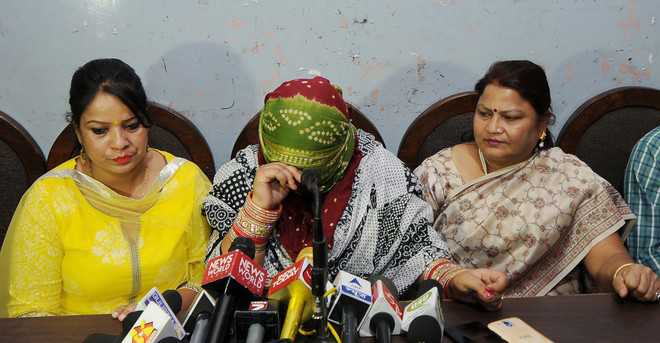 Tribune News Service
Jammu, May 19
The victim in the infamous Khour custodial rape case after being allegedly repeatedly humiliated in the name of investigation by the police today threatened to commit suicide in full public view.
"Police officials repeatedly call me to the police station and ask vulgar questions about the incident that took place in the police station on October 30 night," the victim told mediapersons here this afternoon. She along with her husband came all the way from the border town of Khour to Jammu to seek support from the civil society for justice.
"We are poor people. The police are exerting pressure on my father as well as my husband to withdraw the case," she said and alleged that an hefty amount was also offered to her family for not pursuing the case. "Even on Wednesday my father was again called to the police station for investigation. In the name of investigation, I was called to the police station for five times to identify the spot," she revealed and alleged that vulgar questions were deliberately asked to demoralise them.
"I will commit suicide if justice is denied to me. Severe punishment must to given to the culprit who had sexually assaulted me," the victim demanded.
Narrating the incident which allegedly took place in the room of the then SHO, Khour police station, the victim, who broke down in the press conference, said she pleaded before the officer with folded hand to leave her but of no avail. "The SHO had threatened that he would throw my husband behind bar for whole life on different charges in case I dared to disclose the incident to anybody," she said, adding, "It was all due to the threats of the then SHO that I maintained silence for more six months."
As reported earlier on May 11, a sub-inspector of the J&K Police was arrested on the charges of raping the "victim" at a police station in the border belt of Akhnoor subdivision. One policewoman, who allegedly felicitated execution of the "heinous" crime, was also taken into the custody by the police. The arrested police official, identified as SI Mohammad Iqbal Chagatta, was SHO at the Khour police station. "FIR number 45/2016 under Section 376 (2) and 109 of the RPC was registered at the Akhnoor police station.