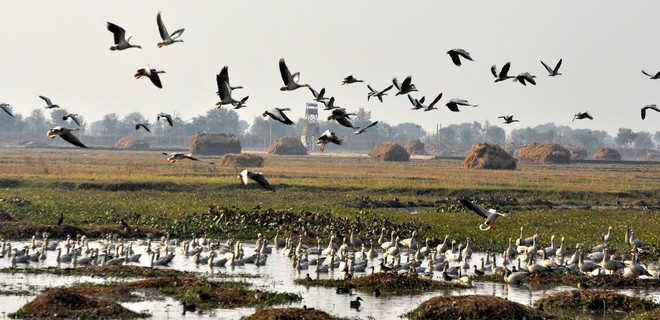 Sumit Hakhoo
Tribune News Service
Jammu, February 2
Official functions marked World Wetlands Day today to commemorate signing of an international treaty to save water bodies.
Five wetlands in the Jammu region have vanished in the last three decades, courtesy the failure of the Revenue Department and the wildlife authorities to demarcate wetlands ofthe region.
Except a small patch at Gharana, close to the international border in RS Pura, some 22 km from the winter capital, water bodies at Pargwal (Akhnoor), once spread over 49.27 sqkm, Kokerian (Gho-Manhasa), 27 sqkm, Sangra, l0.68 sqkm (RS Pura), and Nanga, 1.28 sqkm (Ramgarh), have vanished without a trace. Ironically, most of them were handed over to the Wildlife Department in 1981 for conservation.
Due to the delay in demarcation, villagers have encroached upon the wetlands and filled them while the authorities have taken no action.
At the Gharana wetland, still existent due to some efforts taken in the last one decade, villagers have constructed houses close to the wetland and use the water body for dumping sewage and other waste.
The Ramsar convention, adopted in 1971 in Iran, calls upon the participating nations to conserve wetlands and formulate laws to prevent human-induced destruction of water bodies.
However, in the absence of any planning and non-serious approach of the successive governments, a majority of wetlands in Jammu and Kashmir have fallen prey to human greed.
Despite threat of land grabbers, the Gharana wetland in RS Pura still attracts thousands of birds from Central Asia, China, Siberian Tundra, East Europe and New Zealand during winter but no attention has been given to prevent it.
Contrary to the 1,500 kanals of notified area of the Gharana wetland, only 115 kanals have been demarcated in the revenue records.
"These water bodies could not be saved even after being brought under the conservation efforts way back in 1981. The Wildlife Department is even unaware about their existence," said Bushan Parimoo, an environmentalist.
Records say that there are 29 wetlands in J&K, 16 in the Kashmir valley, eight in Jammu and five in Ladakh. All of these have been brought under conservation plans.
Around 106 species of birds nestle in these wetlands, including 25 species of land birds which visit occasionally and several endangered species.
Wildlife Warden, Jammu, Lalit Kumar Sharma blamed the Revenue Department for failing to take any preventive measures to save the wetlands.
"We are helpless. Our repeated reminders to the Revenue Department to give possession of the lands have not been responded well. Nothing is being done to sort out the issues with the locals who have encroached upon the land around the wetlands in the absence of proper records," Sharma said.
Top News
BJP leaders attack the Congress, accusing the party of invit...
After the accident, people gathered around the temple lookin...
India reports 40 per cent jump in new Covid cases
The incident happened when proceedings were underway in the ...