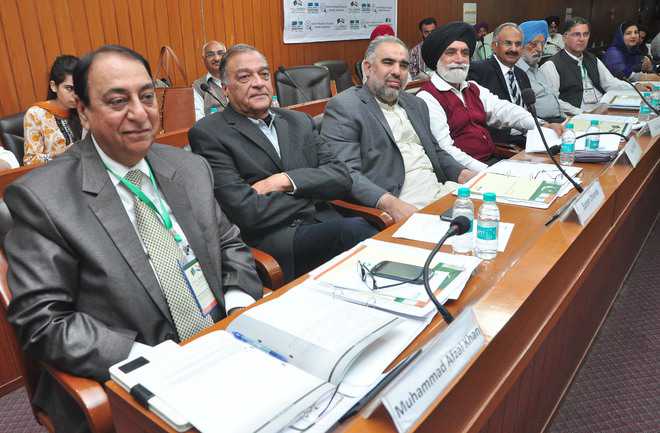 Tribune News Service
Chandigarh, March 10
Leaders of the Pakistan Muslim League (Nawaz) party and the Pakistan Tehreek-e-Insaaf (PTI) today said India should "religiously" follow the Indus Water Treaty, 1960, and allow full water discharge in the Jhelum and Chenab.
The leaders said the occasional blockade of water discharge in these two crucial rivers led to immense hue and cry among peasants of west Punjab, as more than half of farmlands there were dependent on river water irrigation.
Mian Mehmood-ur-Rashid, Leader of Opposition in Provincial Assembly of Punjab (Pakistan), said: "India should religiously honour provisions of the Indus Water Treaty, 1960 and act like an elder brother. Farmers in our country, especially in Punjab, are mostly dependent on the river waters."
The leaders are part of the delegation comprising over a dozen prominent politicians and retired bureaucrats, who are at present visiting India to participate in interactive sessions on sharing of experiences on governance and democracy being organised in various Indian cities. A similar such event was organised today at the Centre for Research in Rural and Industrial Development (CRRID).
PML (N) leader Saud Majeed, a member of the Pakistan Senate from Punjab, who has also served as a member of the National Assembly from 2008 to 2013, also said India should ensure full water discharge in the Jhelum and Chenab.
During the discussion, Mahtab Akbar Rashdi, a member of the Provincial Assembly of Sindh, shared as to how the agriculture sector in Pakistan was facing acute challenges similar to that in India.
Admitting that India's farm sector was still ahead of Pakistan's, nearly all visitors appreciated India's effort of developing high yielding seed of cash crops.
"High lending rates being charged by commission agents, crop damage due to weather calamity, distress sale of produce and soaring input costs are some of the major problems that are common to farmers of both Punjabs. Even the climatic challenges are almost similar. Therefore, the exchange of technology know-how can benefit farmers of both nations," said Saud Majeed.